Are there enough places to charge my electric car?
As many petrol and diesel drivers found out over the weekend (24/25/26 September 2021), the availability of fossil fuels is not something we can always rely on. Of course the short-term effects of this inconvenience has resulted in more of the UK population turning to Google to find out more about electric cars.
No more a concept or something "which is coming soon", EVs truly represent a practical solution for many personal and business leasing customers. Indeed, many existing EV drivers were enjoying the lack of queues for their charge points over the weekend based on some very sarcastic memes…
But are there enough charge points in the UK?
Without a doubt, it is a common theme that we lack the necessary infrastructure to deliver electrification on a more substantial scale.
Very often we hear "there's nowhere to charge the cars", "charging is expensive", "charging is time consuming", "it's so much easier to fill-up at a petrol station." Well, is it? Are these statements actually true?
For many long-term EV drivers, the issues of managing and running their vehicles has, without a doubt, made it far better for the next generation of drivers now emerging, and has resulted in a number of fabulous companies offering services to the electric car (and van) industry that are removing some of the unnecessary hurdles and obstacles. And with organisations like the EVA being a voice for drivers, much has changed in the last few years.
The infrastructure and way in which we power our homes and vehicles is very much on the agenda at a national and local level. There are clearly steps which need to be put in place to ensure the National Grid can sustain mass vehicle charging across the UK. As part of this, you may have noted the growth of more self-sufficiency in this area, with the introduction of further solar panel and photovoltaic technology being encouraged for domestic and commercial customers.
While solar tech has been available for some time, there has been significant improvement in this type of renewable energy. This has been coupled with solar batteries that now allow you to store the energy you create. Companies like Powervault and Tesla can install these at your homes, so that you can utilise the electricity at a later and more convenient time. This is not just a conversation about electric cars/vans, this is a wider conversation about changing our lifestyles. The next 10-15 years will see many of these innovations become a reality for us.
So, if I can't charge at my home, can I charge my EV in public?
The fundamental position from the e-car lease team is that all of our personal and business lease customers should have a domestic charge point installed at their home and/or work address. Regular access to a charge point minimises any disruptions. However, for longer commutes, or for instances where there is no charge point, EV drivers will have to rely on the UK's public charging network.
What happens if my EV runs out of charge?
One of the first suggestions is to download a handy app called Zap-Map, which allows a driver to understand where they can charge their vehicle together with information on any issues or charge points already in use. In addition, EV drivers can be confident that there are companies progressing a change of charge point infrastructure at destinations and service stations, such as Pod Point and Tesco now working together and Gridserve's recent acquisition of Ecotricity.
What is the Rapid Charge Fund?
What is even more heartening is the Government's very recent announcement of the Rapid Charge Fund. This £950 million fund is to be utilised to prepare the motorways and major roadways for zero emission/pure electric vehicles.
So, what are the Government planning to do with their fund?
As set out in their guidance, the aims are as follow:
• By 2023, to have at least 6 high-powered, open-access chargepoints (150-350 kW capable) at motorway service areas in England.
• By 2030, we expect around 2,500 high-powered, open-access chargepoints across England's motorways and major A roads.
• By 2035, we expect around 6,000 high-powered, open-access chargepoints across England's motorways and major A roads.

While the £950 million forms part of the £1.3 billion commitment to EVs, there will be additional money available to fund other projects, such as a £90m larger-scale local charging project fund. The grants are to help the private sector to manage and develop the UK's infrastructure and these will not be delivered by public authorities. For further information on the Rapid Charge Fund, you can email [email protected]
Understanding where to charge your new electric car is important, particularly with an emerging network on route. However, the e-car lease team also encourages their customers to understand the battery/charging speed which their vehicle possesses. For example, a 350kW DC rapid charging point sounds an incredible initiative by the Government, but if your car can only charge at 50kW DC, this functionality is futile. As shown on the UK's best electric car leasing website as produced by Lythium, every customer will be shown the vehicle's maximum charging rate coupled with a full analysis of the charging time.
So, how quickly does the Mokka-E take to charge?
Well, as you will see below, you can see that the e-car lease team show exactly what you need to know. This enables you to find the best charge point for your car in conjunction with Zap-Map.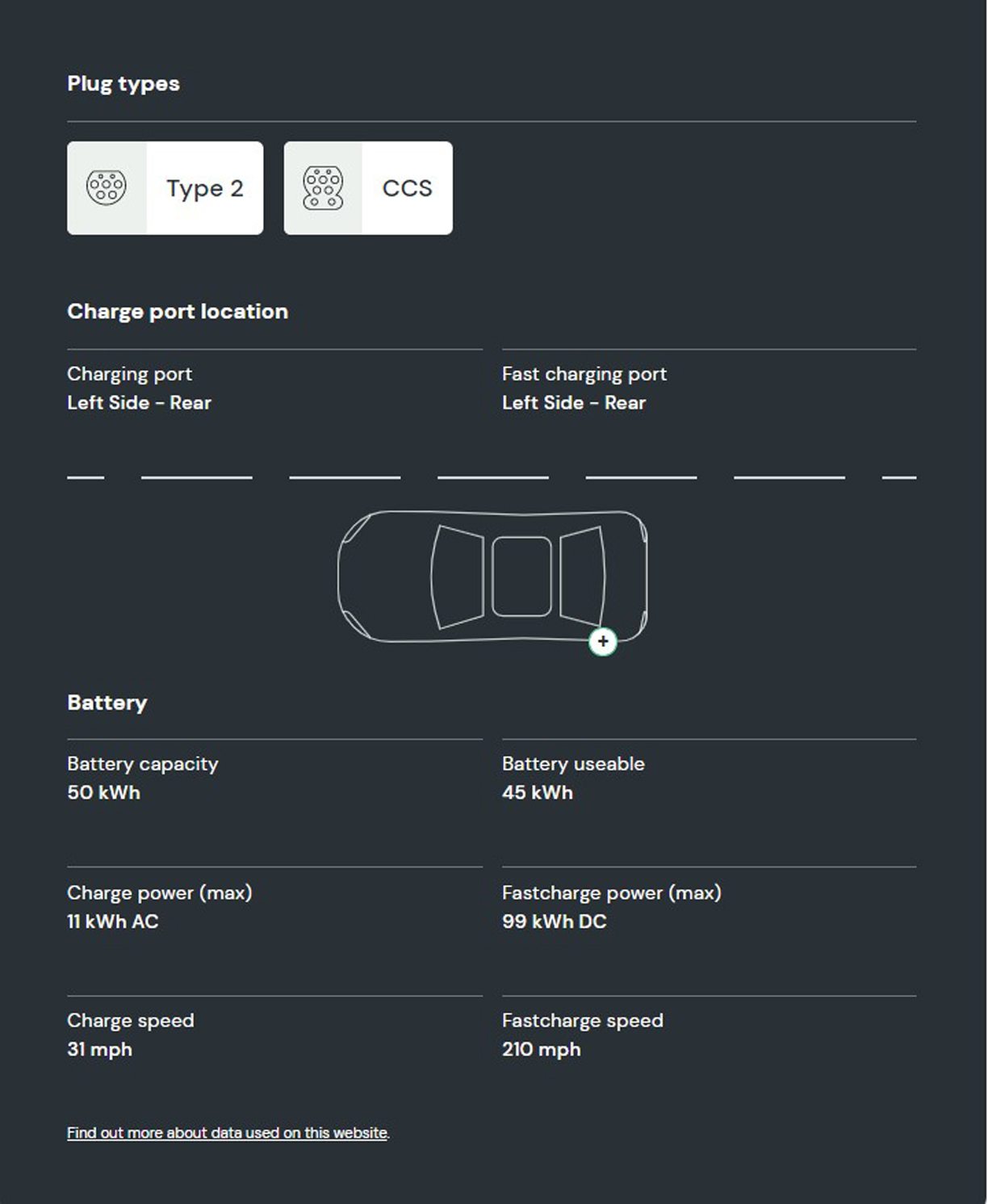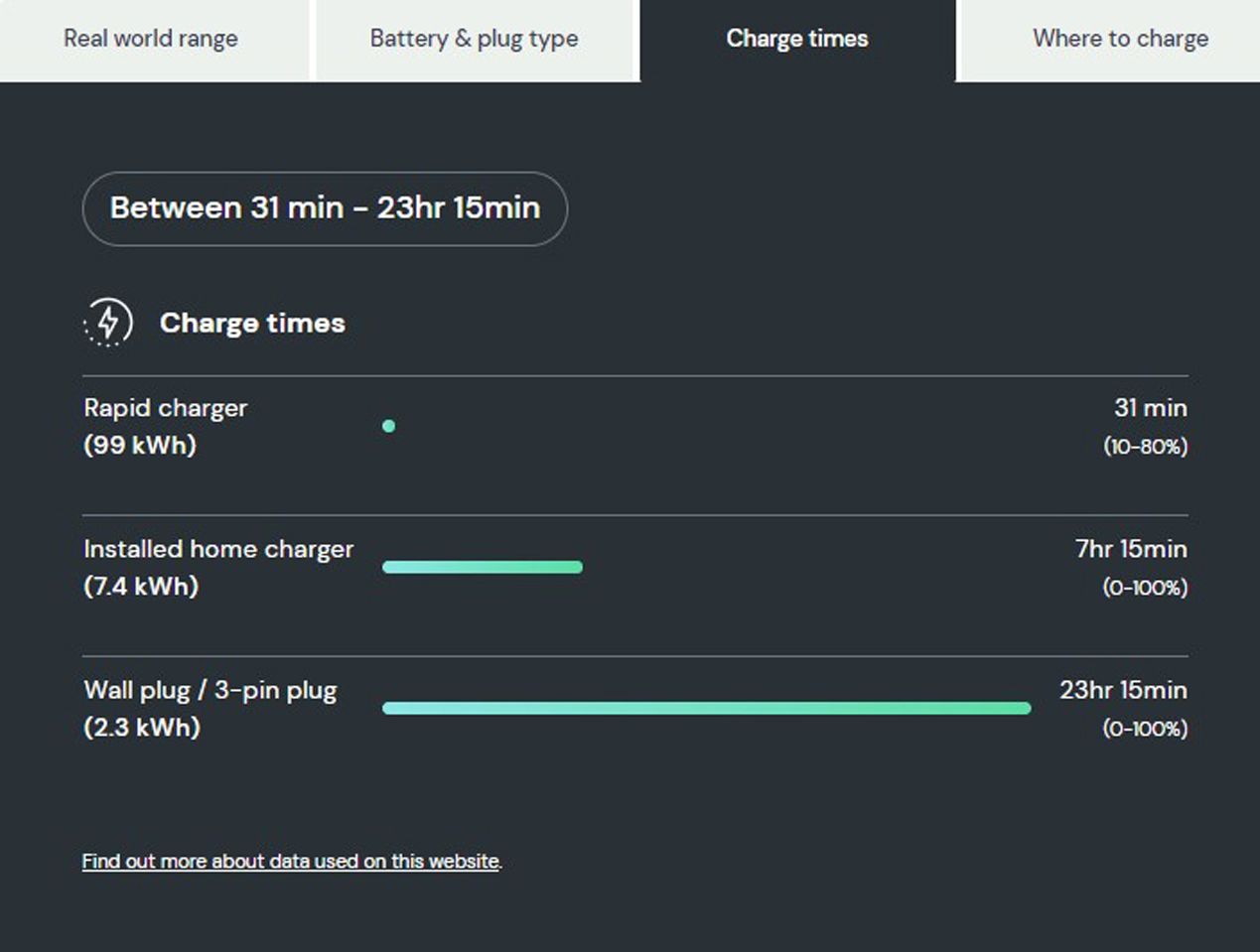 And if I fail to charge my electric car, what happens?
One of, if not THE, greatest fear of potential EV customers is the situation where the EV has insufficient charge. While many electric cars have an in-built safety protocol which allows you to drive on "zero range" for a short period of time, once this is exhausted your vehicle will not operate. Much like a petrol or diesel vehicle, if you don't effectively charge or fuel it then it will not operate properly.
What should I do if my electric car runs out of charge?
The only way to manage this would be to call a recovery company, like the AA or RAC, to take you to the nearest charge point. You may notice that LV, the insurance company, are now offering this on their electric car insurance offers.
Vauxhall Mokka-e Electric Hatchback 100kW Elite Premium 50kWh 5dr Auto
In terms of the car shown, the Vauxhall Mokka-e Electric Hatchback 100kW Elite Premium 50kWh 5Dr Auto, this is based on the following configuration:
Premium metallic paint - Mamba green
Black fabric leather effect seat trim with Jet Black fabric side bolsters
17"" bi colour diamond cut alloy wheels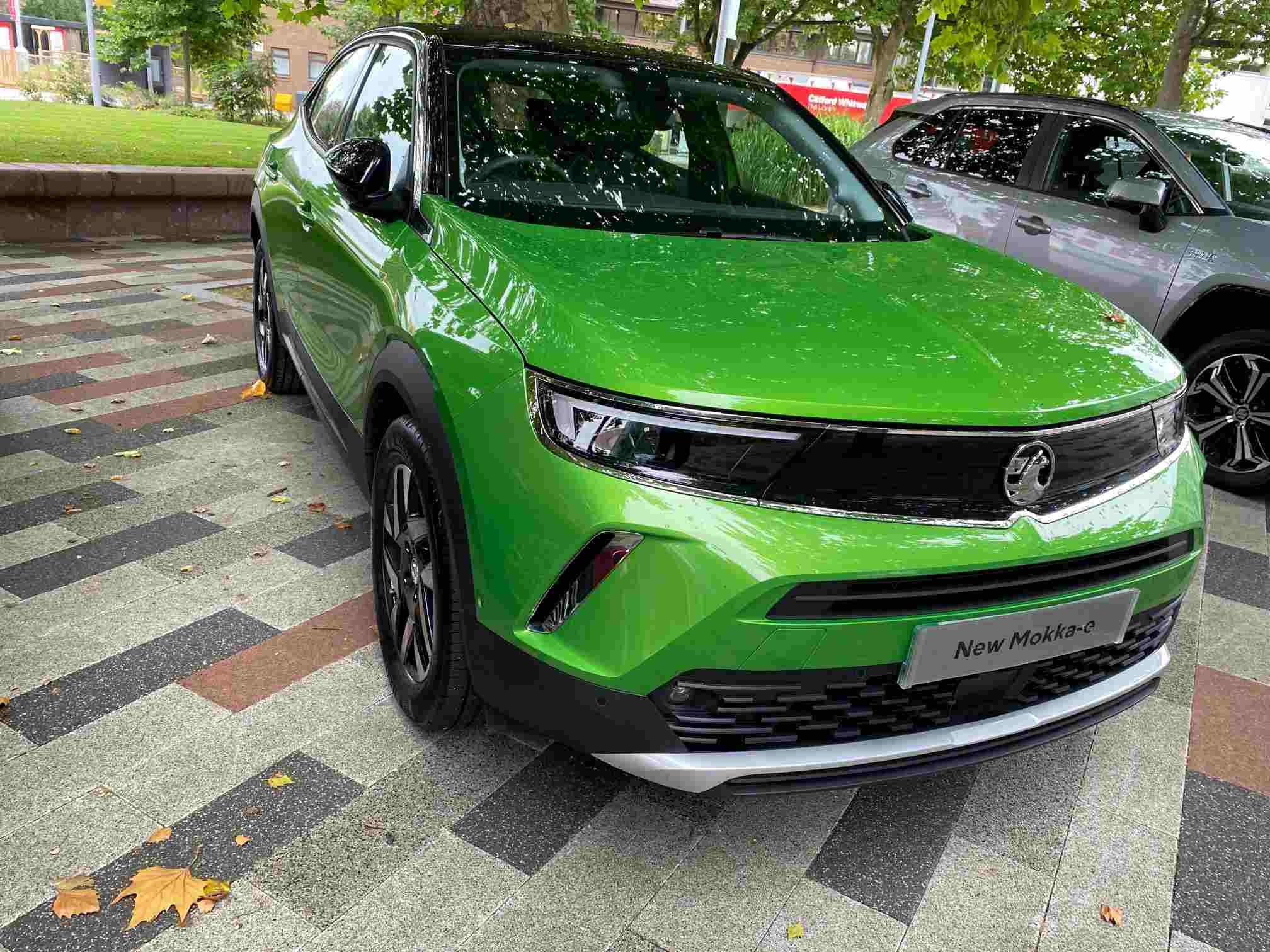 As standard, the car includes 11kW on board charger, 3 spoke flat bottomed leather steering wheel with satin chrome bezel, 3 stages driver and co driver heated seats, 6 way manual adjustable driver fore/aft, up/down with reclining seatback.
6 way manual adjustable front passenger fore/aft, up/down with reclining seatback, Adaptive brake lights, automatic adaptive cruise control, automatic emergency city braking, automatic lighting control with tunnel detection.
Automatically dimming anti dazzle rear view mirror, Bluetooth A2DP audio streaming, electrically adjustable heated and folding door mirrors, electronic climate control (ECC), emergency brake assist, front and rear parking distance sensors.
Front camera system, heated rear window+rear wash/wipe, heated steering wheel, height adjustable front/rear head restraints, high beam assist, hill start assist, keyless entry and start, LED daytime running lights, lane positioning assist, mobile phone portal - Bluetooth connect, vehicle microphone, handsfree calls, SM Mode 3 charging cable.
Multimedia Navi Pro infotainment with satellite nav, 10" colour touchscreen, panoramic rear view camera power assisted speed sensitive steering, remote control ultrasonic security alarm system, smartphone integration compatible with Apple CarPlay and Android Auto, speed sign recognition and sports switch with engine sound enhancement. In terms of additional options, consider the Matrix LED headlights.
On the technical side, company car and salary sacrifice drivers can note the P11d at £35,175.00 and CO2 at 0g/km. The 45kWH usable lithium-ion battery delivers a range of around 130 miles in winter with around 180 miles combined in summer.
On the performance, the Mokka EV will offer 0-62 times of 8.5 seconds, 93mph top speeds and 134ps. The Mokka charges at a maximum of 11kW AC (0-100% will take 5 hours) and a maximum of 99kW DC (10-80% should take 80%).
In terms of AC Charging, a full analysis of the Mokka Electric is set out below: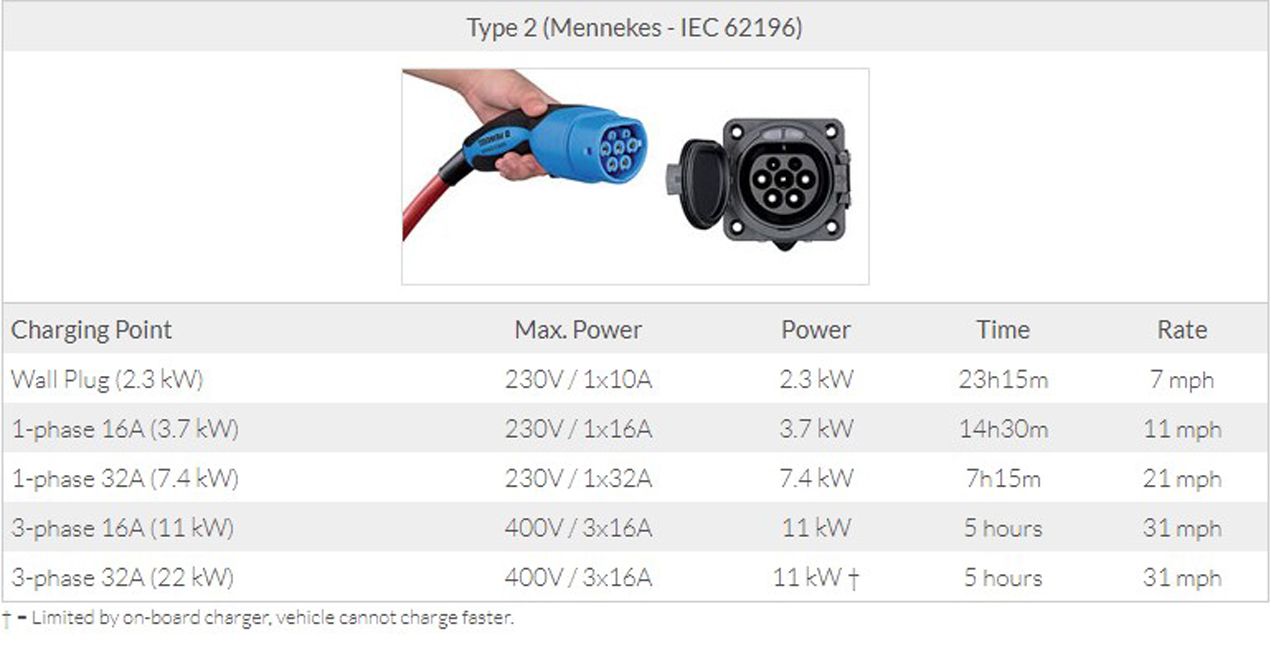 In terms of DC Charging, a full analysis of the Mokka Electric is set out below: