Uneducated guidance and opinion on EVs (whether in the pub or in the media) will often concentrate on a range obsession. There is a focus on the cars being able to travel ridiculous, and unnecessary, distances. You wonder whether these people drive around with a constantly full tank of petrol or diesel! We think not.
The good news for more nervous customers is that many vehicles being produced from 2020 are offering more than ample range for most drivers. Yes, we do accept that high mileage leasing customers have further considerations than those pottering around town covering sub-10,000 miles per annum.
However, the average customer we work alongside is not covering anywhere near the mileage which would put pressure or exceed the capabilities of most vehicles. You will note that most cars can offer anywhere between 150-250 miles on a full charge, with some exceptional products, like Tesla and Polestar offering north of 300 miles on a full charge.
But how do we measure range?
As part of new testing regulations and vehicle data, the Worldwide Harmonised Light Vehicle Test Procedure (WLTP) is now in place to provide customers with a more accurate reflection on their potential new vehicle purchases, compared to previous approach under NEDC.
What factors impact range?
For customers looking to buy or lease a new electric car, you will note that the range is described as x miles or km WLTP. However, in most cases the customer is presented with just one flat figure. This not a true reflection of the range and here at e-car lease, we take additional steps to educate customers. These factors include:
Weather/seasonal impact - cold or mild weather;
Driving style - fast or slow; and
Terrain - highway or city.
With any electric vehicle it is impossible to say the EV range is "x miles". What you need to understand is how the vehicle performs in different climates; for example, an EV does not perform quite as well in winter as it does in summer. The reason for this is that the batteries in our electric cars need to operate at an ambient temperature. The car will therefore use energy in trying to get the batteries to the correct temperature. We would therefore suggest, for example, that you plug your vehicle into the charge point at home, so that it uses the energy from your charge point rather than the car itself for a cold-start morning.
Additionally, you will note that an electric car performs better in smaller stop/start type journeys - an electric car is the perfect urban solutions for towns and cities. However on the "highway", you will see that the vehicles do not perform quite as well. Unlike a diesel, which cruises so well at 70mph, an electric vehicle does use more energy.
What is a realistic, real-world range for electric cars?
The point is that you need to understand your commute and driving habits, so you can have a realistic EV range estimate - what we describe here at e-car lease as a real world range. And remember, it isn't just about the battery size; you will see that many vehicles are described as "kwh" which denotes the size of its battery. However, what is crucial is the consumption of the vehicle, which is the energy the battery uses based on the speed of the vehicle, style of driving and weather conditions. Some vehicles, even with their larger battery, are not as efficient as others. It is therefore important to note the efficiency shown as "wh/mi".
Plug your vehicle into the charge point at home, so that it uses the energy from your charge point rather than the car itself for a cold-start morning.
Is the future of EVs a 400 mile+ battery?
So is the EV range going to continue to increase? Are we going to see 400 miles plus? The likelihood is no. There are very few good reasons to make vehicles with 400 miles ranges. Because of the size of the vehicle and the cost, these eliminate most personal and business users from accessing them; you will see some headline options like the new Tesla Model S, which is going to offer around the 400 mile mark for a standard option and over 500 miles for the Plaid+ option. But at prices north of £85,000, it is simply unaffordable for the majority of the mass-market.
While a 300 miles range does seem to fit most of us (and make many of the risk-averse feel comfortable), the improvements in the future of electric car driving has to be in two facets: 1) speed of charge, and 2) rapid charge infrastructure. Not every car charges at the same speed, which means that when you attach your car to a rapid charge point, it will able to charge at a certain rate, shown as "kW" per hour.
If a charge point was capable of 350kW but your car was limited to 50kW, then it would not charge any quicker than if your attached it to a 50kW rapid charge point. However, many new vehicles are increasing the charge speed capability. For example, the new Hyundai Ioniq 5 is cable of a 232kW fast charge power. This would take the vehicle just 18 minutes to achieve 10-80%! With further enhancements in charging speeds and the availability of rapid charging solutions, the practicality of running an EV is clearly made evident.
Audi E-TRON ESTATE 300kW 55 Quattro 95kWh S Line 5dr Auto
In terms of the car shown, the Audi E-TRON ESTATE 300kW 55 Quattro 95kWh S Line 5dr Auto (Pure Electric Vehicle), this is based on the following configuration: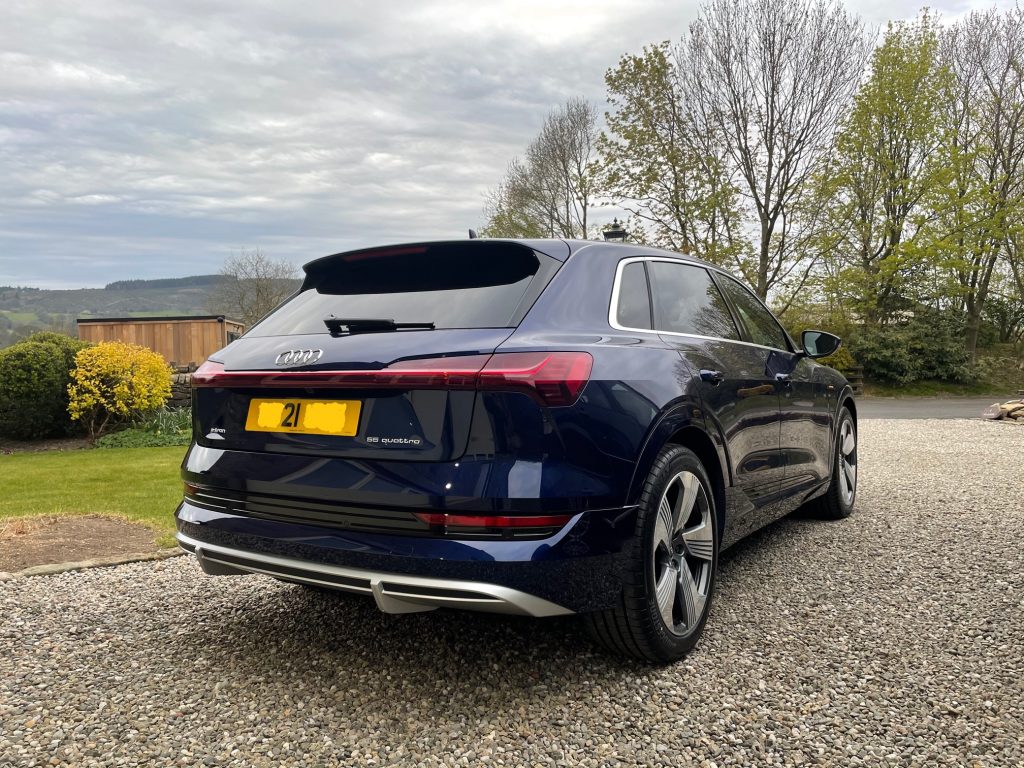 Navarra Blue Metallic Paint
Valcona leather - Black with rock grey stitching + front sports seats S embossed logo
Dark matt brushed aluminium inlay"
21" 5 arm turbine contrasting grey design alloy wheels
As standard the car includes remote preconditioning, air conditioning, 3-spoke sport multi-function steering wheel, 21" alloys, electric adjustable/heating/folding/auto-dimming mirrors with kerbside function, cruise control.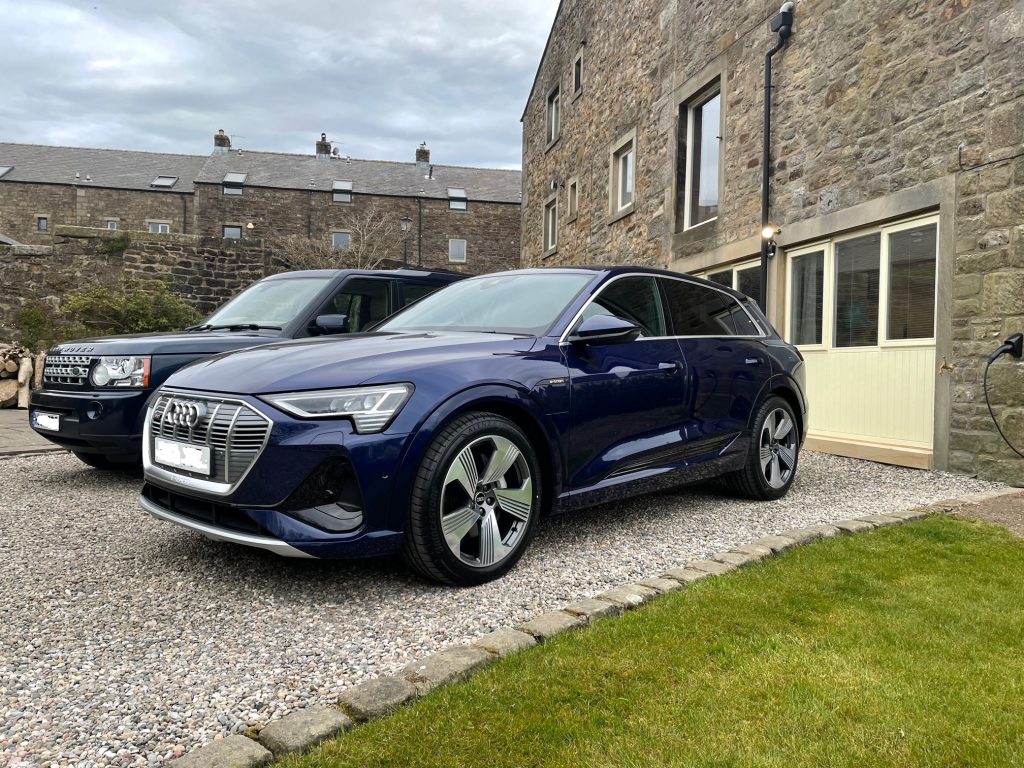 Lane departure warning system, adaptive sports suspension, smartphone interface with wireless functionality, wireless charging, parking system plus with 360 degree sensors, rear view camera, virtual cockpit, MMI navigation, body coloured mirror, auto diming rear view mirror.
Audi sound system with 10 loudspeakers and subwoofer, S line aesthetics, Audi matrix LED headlights, 11kW onboard charger, two charge points accesses, comfort armrest, valcona leather, gloss styling pack, LED interior pack, twin leather pack, 4-way lumbar support for the front seats, heated front seats, keyless go and anti-theft alarm.
In-term additional options consider - virtual exterior mirrors and the panoramic glass sunroof.

On the technical side, company car and business users can note the P11d at £81,370.00 and CO2 at 0g/km. The 95 kWh lithium-ion battery offers a range of around 190 miles in winter and 250 miles in summer, 380 Wh/mi efficiency, 0-62 times of 5.7 seconds, 408ps and top speeds of 124 mph.
A domestic 7.4kW charge point will take around 14 hours to fully charge the vehicle, a faster 11kW AC charge point will take 9 hours to fully charge and a rapid 50kW will take around 75 minutes to achieve 10-80%. Do note that the vehicle can charge at a maximum of 155kW.