The Tesla Model 3: A car for young drivers or a car for all generations?
The Tesla brand is without doubt one of the true successes of 2020. What was previously considered a niche product and a peripheral automotive business is now the leading car producer in the world - the Model 3 is considered the car of 2020. Combining technology, a sustainable mantra and some class-leading marketing, Tesla have managed to become one of the most sought-after and aspirational car brands in the modern automotive market.
You only have to look at the Tesla share prices to appreciate just how significant this brand is: not only have these share prices made Elon Musk one of the richest people on the planet, they have created a raft of Tesla stock millionaires. With their cutting-edge tech creating the best electric car options on the roads, you would presume that the demographic for a Tesla would be a younger driver only - the so-called "snowflake generation"?
EVs are not for older drivers: Is this really the case?
Are older drivers unlikely to take the plunge into electrification and drive a Tesla? We understand the move to an EV is not always an easy and seamless one; changing from 30/40/50 years of combustion engine driving could be considered a more daunting proposition than younger drivers who have spent nothing more than a few years in the same fuel choice.
However, our e-car lease team have found this assertion not to be true whatsoever. One of the more surprising effects of EVs is that they have created the best solution for older and retired drivers. What? An older driver can operate an EV? Some of these ridiculous notions genuinely exist and some of the farcical content has actually convinced the UK market that a Tesla is too complicated for anyone other than a computer nerd to fathom. This is far derived from the truth and we actually lease equal numbers of Tesla Model 3's to drivers under the age of 60 in comparison to those over 60.
When you look more closely at the EV, in particular the Tesla Model 3, you can see why this is so attractive to the older driver. For many drivers covering a low mileage on stop/start type driving, this is almost perfect for an EV. With a Tesla covering around 300 miles on a full charge, this is not a vehicle which they would need to charge as regularly as you would think, particularly when an EV is more efficient covering these types of journeys compared to the longer motorway-style ones.
One of the more surprising effects of EVs is that they have created the best solution for older and retired drivers.
You also have to add to the fact that this type of driving, particularly in urban conditions, is more suited to the electric car. We are in an era of climate change and emission reductions. With the EV producing zero tailpipe emissions, being caught in stationary traffic will not alarm any pedestrians nearby as you will not be flooding them with particulate matter or NO2.
Tesla Model 3 whole of life costs for all generations
While a Tesla may be more expensive per month on the finance side of things, when you consider the overall cost (known as the "whole of life cost"), a Tesla can offer a cheaper option than some petrol or diesel options.
EVs are far cheaper to fuel than a combustion engine. With a kW of energy costing you around 10 pence with your supplier (and free in some cases with leading EV energy suppliers), the cost of fully charging your vehicle will be around £3-£5! The cost of fuelling a combustion engine is 10 times this amount. Many EVs, like the Tesla, are far cheaper to service as they have much longer service intervals. Indeed, with an EV having no more than 30/40 moving parts, compared to the thousands in a combustion engine vehicle, you have much less to maintain and replace.
When you consider the overall cost, a Tesla can offer a cheaper option than some petrol or diesel options.
Is the Tesla Model 3 far too complicated for the average driver to understand?
Again, this is another misconception. Like the Apple iPhone, the Tesla has been designed to be ergonomic and practical. The technology in the vehicle is not designed to make driving more difficult; it is very much the opposite. With a Tesla you essentially sit in your vehicle and drive - automation is key. While you can operate the vehicle from your iPhone, you are given a credit card style key, which allows you to enter and lock the vehicle easily.
While there is large screen in the centre of the vehicle, there are no additional steps or complications which you need to undertake to propel the vehicle. You simply select "Drive" on the gear stick and accelerate. But what about all the cameras and technology functions? The additional options on the Tesla are what makes it perfect for the older driver. The driver assistance mechanisms are second to none and the vehicle is primarily focused on making this a safe experience for you and any passengers.
Unlike a small manual vehicle, the Tesla allows the driver to concentrate on the road and benefit from a number of fantastic safety systems. Add to that an in-built dashcam covering the front, rear and sides of the vehicle and you have all bases covered. Worried about the Model 3 being stolen or vandalised? The Sentry mode ensures your vehicle alerts you to people approaching the vehicle but a live CCTV function monitors any activity. If anything, the Tesla Model 3 is one of the easiest vehicles to drive.
So what are you waiting for? Get your Tesla Model 3 ordered today from the UK's leading electric car leasing company - the e-car lease team.
Tesla MODEL 3 SALOON Long Range AWD 4door Auto
In terms of the car shown, the Tesla MODEL 3 SALOON Long Range AWD 4door Auto [Pure Electric Vehicle], this is based on the following: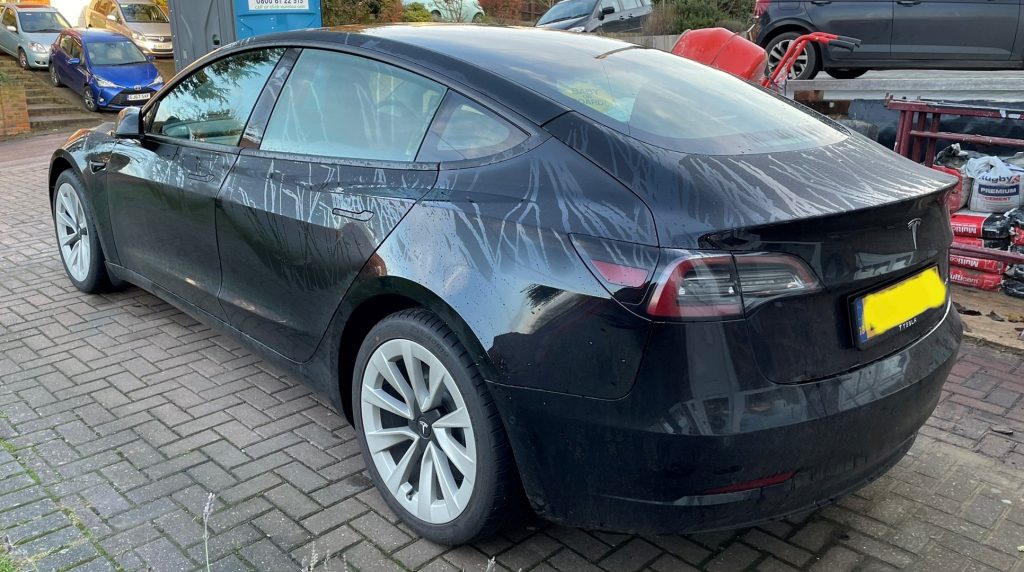 Black Solid Paint
Premium material - Black PUR seat
Premium heated seating and cabin materials throughout including open pore wood décor and two rear USBs
19" Silver sports wheels
As standard the car includes base autopilot, automatic emergency braking, adaptive cruise control, adaptive steering, front parking sensor, rear parking sensor, lane departure warning system, park assist camera, traffic sign recognition, power boot-lid, BLIS, 15" touchscreen.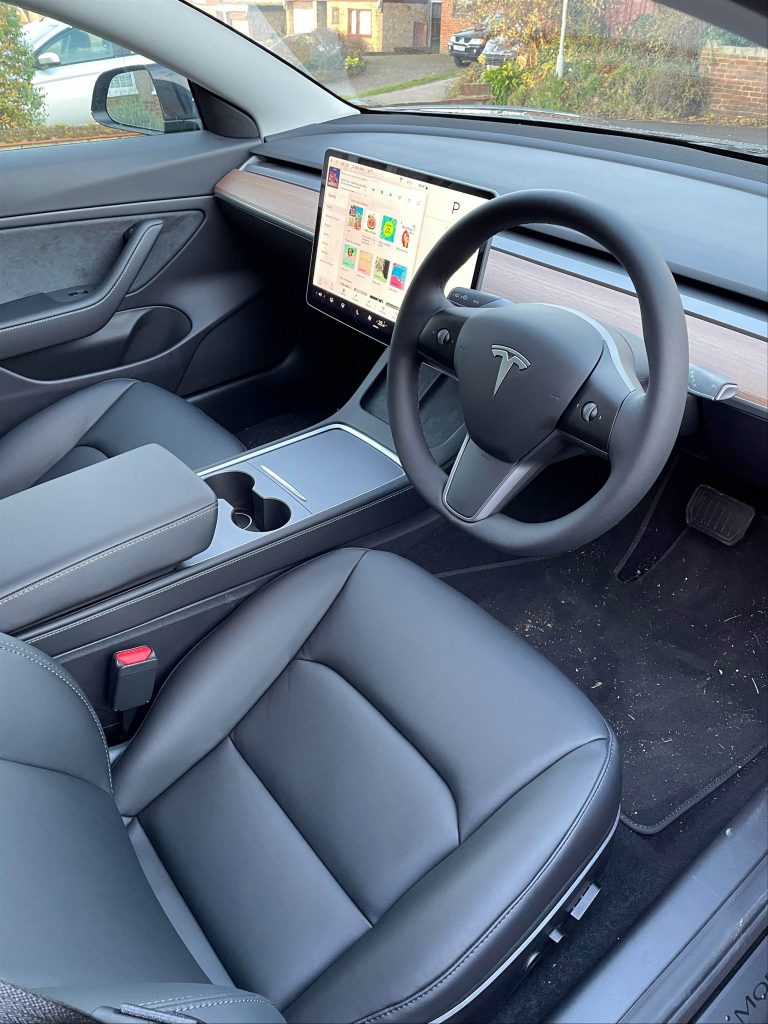 DAB radio, premium audio with 14 speakers/1 subwoofer/2 amps, automated high beam assist, LED headlights and fog lamps, climate control, ambient interior lighting, 12-way adjustable heated front and rear seats, tinted glass roof.
Keyless entry, alarm and immobiliser. In terms of additional options, consider adding the enhanced autopilot for £3,400 which includes:
Automatic driving from highway on-ramp to off-ramp including interchanges and overtaking slower cars;
Automatic lane changes while driving on the highway;
Autopark in both parallel and perpendicular spaces; and
Automatically park and retrieve your vehicle with Summon Mode.
The full self-driving capability allows automatic driving on motorways and city streets but at £6,800 this represents a big upgrade.
On the technical side, company car and business users can note the P11d at £50,934.99 and CO2 at 0g/km. The 78kWH lithium-ion battery delivers 0-62 times of 4.2 seconds, top speed of 145mph and 351 BHP.
Expect the Tesla Model 3 Long Range to offer combined ranges of circa 235 miles in cold weather and 330 in warmer climates.
If you connect the Tesla to a rapid 11kW AC unit this will deliver a full charge in 7-8 hours, with the more rapid 190kW DC solution offering a 30 minute 20-80% time. Service intervals are set at every 24 months or 25,000 miles, whichever lands sooner.