The Tesla Model Y - a UK Top 10 for February 2022 but can it last?
The latest statistics from SMMT presents some great reading for Tesla, with their brand new SUV Model Y, ranking 4th in the list with some 1306 registrations. Coming in at number 5, the ever-popular Model 3 racked up 1275 registrations in February too. With an even busier March anticipated by one of the world's leading EV manufacturers, could we see Tesla feature in the top 2 for the first time ever?
While this would have been labelled as nothing more than a pipe-dream a couple of years ago, of the 58,000+ new vehicles registered in February of this year, over 10,000 were pure electric / battery electric vehicles! This represents an incredible 17% market share against petrol, diesel and other hybrid / plug-in hybrid options and is 10% higher than where zero-emission vehicles were at the same time in 2021. The transition towards electrification is more than well underway and the UK's personal and business customers are proving to be receptive.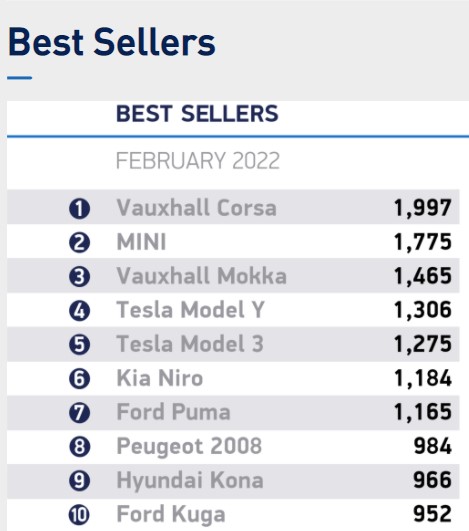 But will the success of the Model Y continue? One of the obvious questions to arise from this is - what car can actually compete with the Tesla Model Y? While many manufacturers are more attune to the EV-lifestyle, the EV innovators Tesla have been able to command the attention of the public and create a truly outstanding product. In playing catch-up, this has placed even the most prestige of brands, like BMW, Mercedes and Audi, on the back foot. Design, innovation and production is not only a costly exercise it is also time consuming. And this accounts for why many of the leading brands have been so slow in competing with Tesla. Indeed, it was probably unexpected as to how popular electric cars would become in the UK since around 2020.
With their Model 3, Elon Musk was able to bring a class-leading proposition to markets worldwide bolstered by an already robust charging infrastructure in the UK. The demand for this car went beyond even the e-car lease team's expectations and the Standard Plus (now RWD), Long Range and Performance options were sold in equal measures. Not only did this enhance the reputation of the rising star, it provided a pathway for further investment and new product. This is where the SUV Model Y came to fruition and early reviews are suggesting this is an even better leasing option than the Model 3.
But other manufacturers have not been completely remiss. And, to answer a previous question, there are potentially other makes / models for our personal and business lease customers to consider. The key like-for-like cars will be the VW ID.5, Skoda Enyaq Coupe, BMW iX3, Audi Q4 Sportback and Mercedes EQB to name but a few. Some of these vehicles will not be immediately available in 2022 and some could arrive later into 2023. But there are now some credible alternatives to add to your list. But what constitutes a good electric car?
After nearly 6 years of EV-procurement, the e-car lease team are more adept at managing our customer requirements. While style, design and badges are still important to customers, there are core elements which are becoming more apparent to zero-emission vehicle customers. One of the initial queries will be range - how far will the vehicle travel on a full charge? The notion of range-anxiety is slowly ebbing away as more comprehensive battery technology lands in the automotive market; there are a plethora of vehicles which can achieve 250 mile+ ranges on a 100% charge.
But when looking at range, we always encourage potential customers to move away from a one-figure analysis. The capability of an EV is influenced by a number of factors including weather, driving style and driver behaviour. For example, colder climates do influence batteries and if you are not pre-conditioning your battery, you may notice a drop in capability. In the same way, longer motorway journeys are less efficient than the urban stop/start driving which EVs truly flourish at.
And it isn't just range which is important in deciding which EV is most suitable to you or the company. One of the lesser-known facets of an EV is its "charging rate". Not all EVs are equal! By this we mean that each manufacturer, and/or make, will have different statistics for maximum charging rate in both AC and DC format. In relation to an AC charging session, this will generally apply to either home or workplace charging (with some destinations now adopting this). The DC relates to your rapid charging sessions and this will be more relevant for those customer's looking to charge at service stations and electric forecourts. If you are an employer looking to install a charging facility at your premises, there will be significant cost considerations and AC charging infrastructure is often cheaper, so this will be used as opposed to the DC facilities.
The importance of the charging capability, in AC and DC, is that this is showing you (or your drivers) where they can charge at in order to obtain the quickest session possible. For example, the Tesla Model Y can charge at a maximum of 11 kW AC and 210 kW DC. If you are AC charging at home, you will often utilise a 7.4 kW home charger, which would take around 11 hours to take your new Model Y from 0-100%. However, because the car can charge at a higher 11 kW, if that charge point is available to you, this will reduce the same charging session to 7 hours and 30 minutes. In the same way, should a 22 kW charge point be available, just note that the car will not charge any quicker - it is limited to the rate set by the onboard charger. The same applies for the DC (rapid charging) aspects of the Model Y which can charge at a rate of 210 kW. The 10-80% session would be around 30 minutes if the charge point you connect to is capable of this. So while you might say that range is king, then charging rate is definitely queen.
Charging infrastructure isn't something which should be overlooked either. Over the last 10 years, Tesla have forward planned their charging infrastructure with rigorous detail. Most major motorway networks, cities and towns are within a short commute of a Tesla Supercharger or Store. And with many Tesla charging hubs capable of 150 kW+ sessions, many of their customers are enjoying 20 - 30 minute times. No other manufacturer has managed to do this yet but this is where competition may arise. More and more companies involved in the charging space are bringing together charging solutions, AC and DC, to key destinations throughout the UK. For any EV-driver with no home charge point, these places will be key for ensuring a positive experience. And companies like Zap Map are helping EV drivers to find the nearest and most efficient charge points too.
Is there anything else which can impact the Tesla Model Y? The other obvious concern facing the new car industry is the impact of Covid, microchip shortages and now war. Production of new vehicles, including pure electrics, has been diminished to some of the lowest levels to date. Because of the extent of the disruption, no manufacturer is immune from this impact and Tesla are no different. As at March 2022, the latest delivery times for their product are:
• Model Y Long Range - May/June 2022
• Model Y Performance - Late 2022
• Model 3 RWD - November 2022
• Model 3 Long Range - November 2022
• Model 3 Performance - May 2022
• Model S - 2023
• Model X - 2023
If you are in a position to lease your new electric car, personal or business, then you need to make a decision asap if you are to drive the car within 2022. Unfortunately, unless the supply chain suddenly improves, we expect the reminder of this year to be as equally constrained.
If you do need any more information on the Tesla Model Y, just enjoy the pictures which some of the lucky e-car lease customers sent across to our team. And note the key details below (all of which is available on our leading website):
TESLA MODEL Y Long Range AWD 5dr Auto
Discover More TESLA MODEL Y Long Range AWD 5dr Auto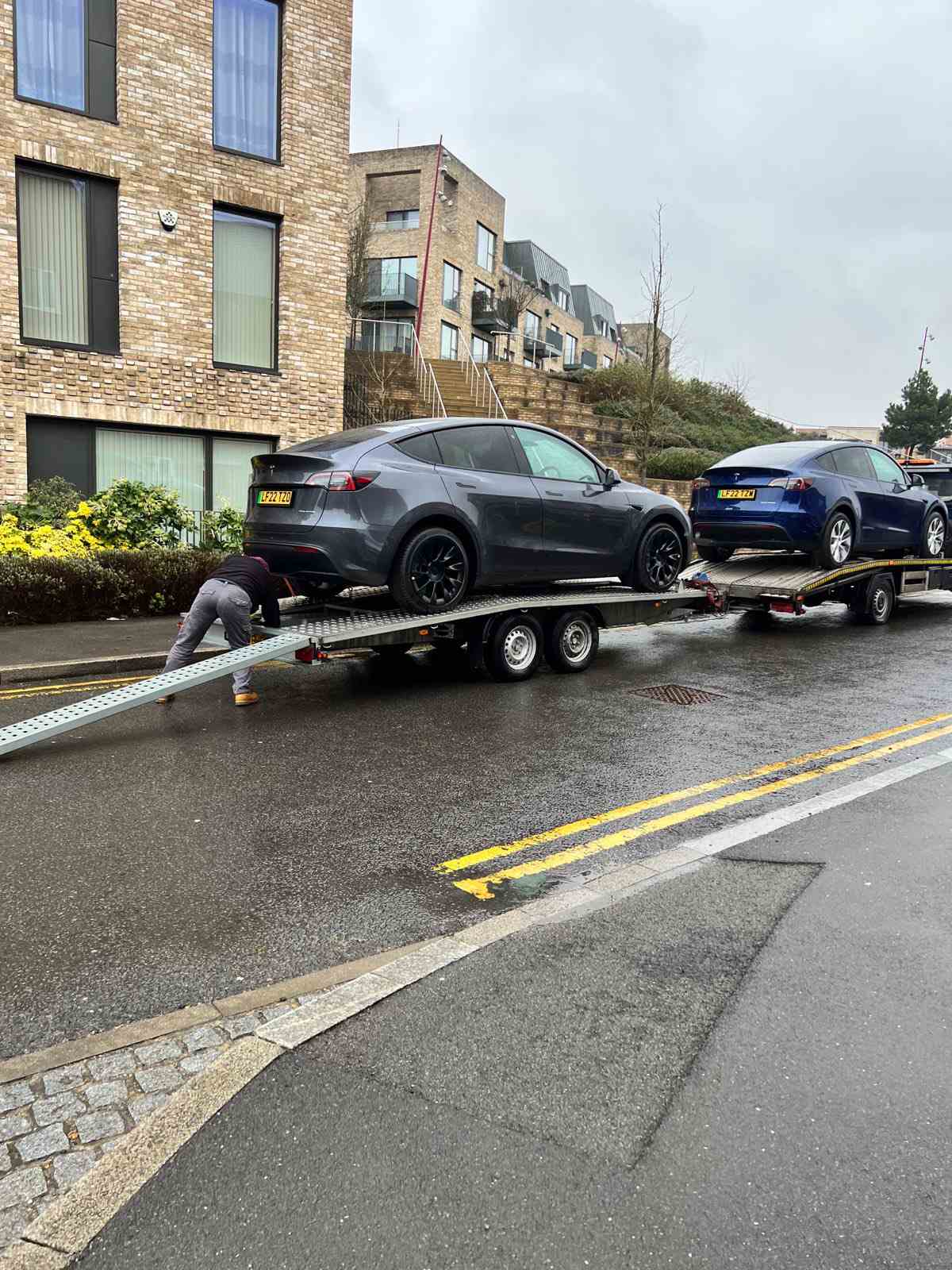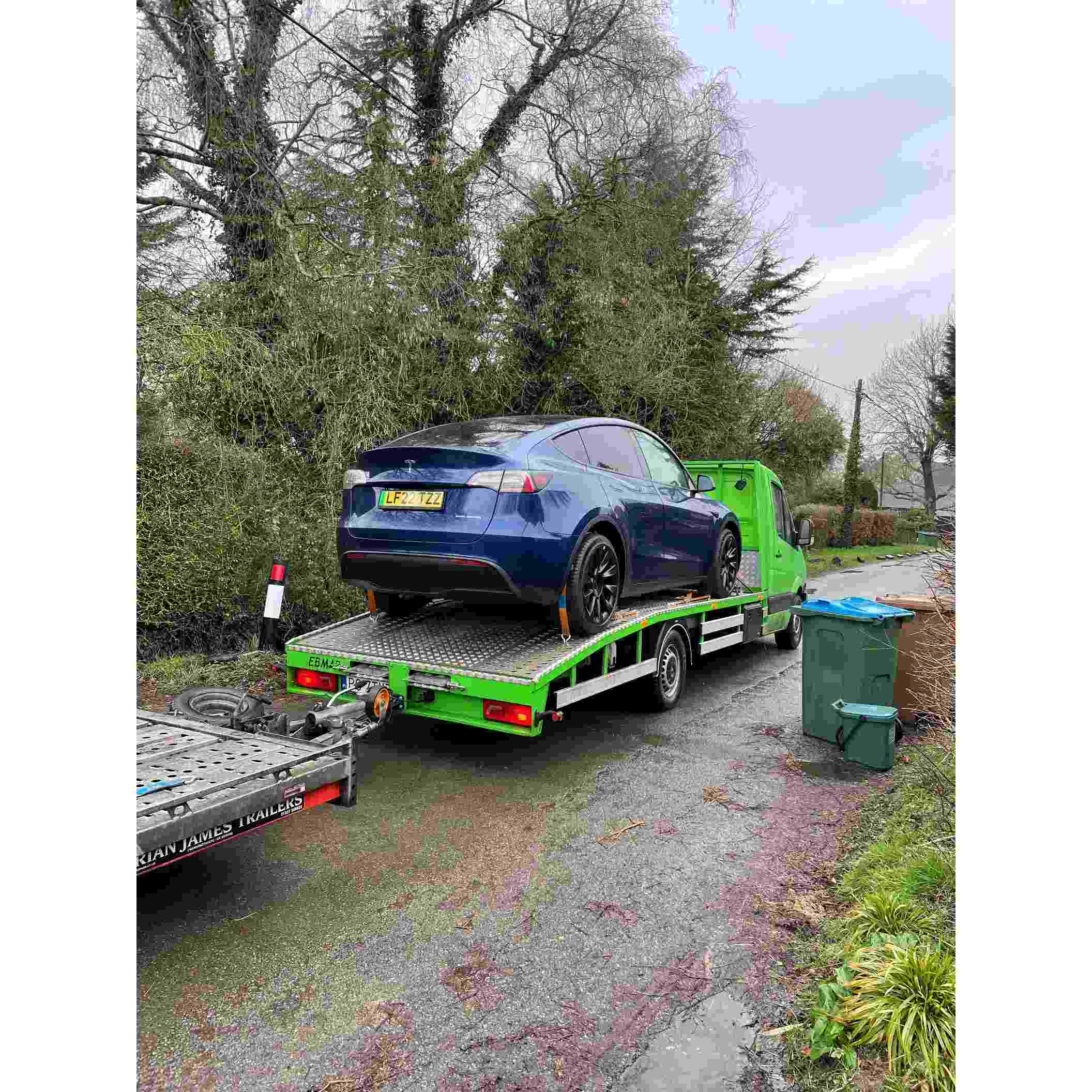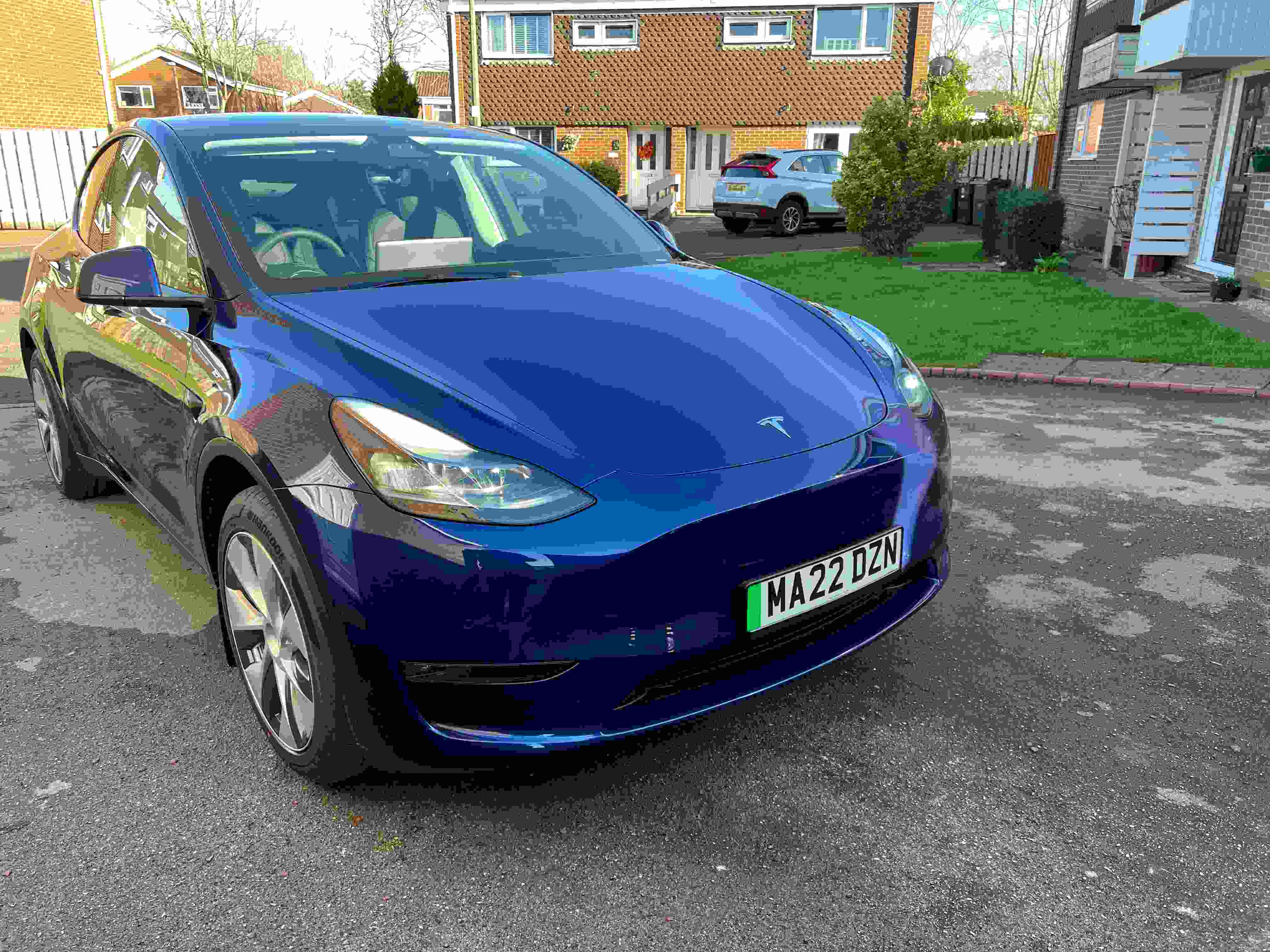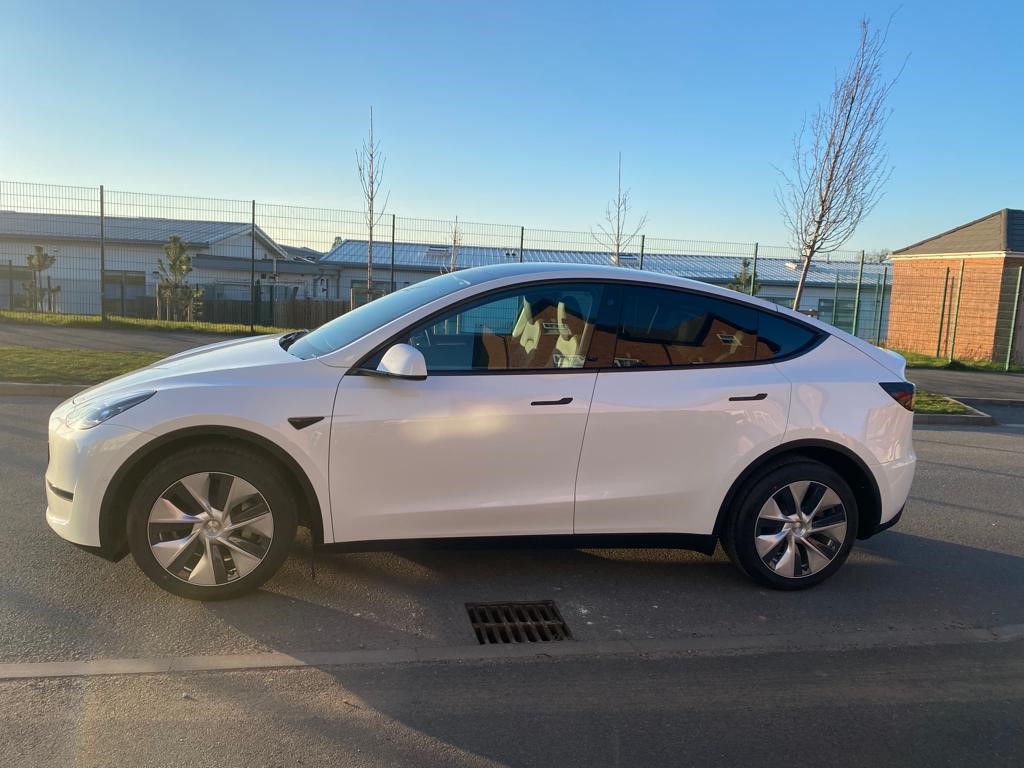 What is the actual range of the new Tesla Model Y Hatchback Long Range AWD 5Dr Auto?
Because e-car lease do not provide one set amount, we ask all of our customers to review the information below which helps show the way in which the Model Y SUV performs in different weather conditions and while undertaking different driving styles.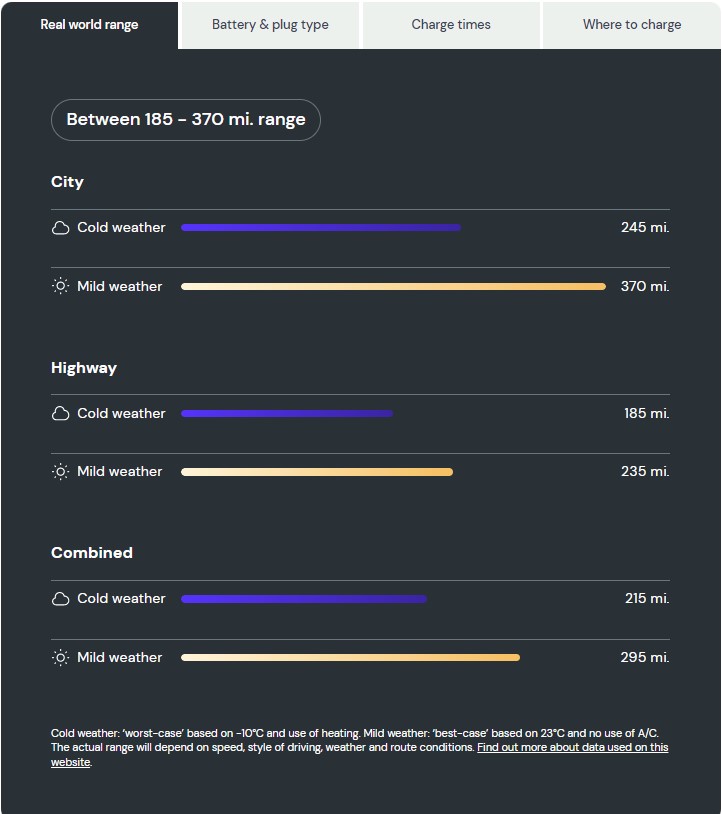 What charging cables and battery details do I need to know about with the Tesla Model Y Hatchback Long Range AWD 5Dr Auto?
Because e-car lease are the leading electric car experts, the information we provide ensures you or the company have everything made available to you including the charging speed, plug-type and charge pot location on your new SUV Model Y.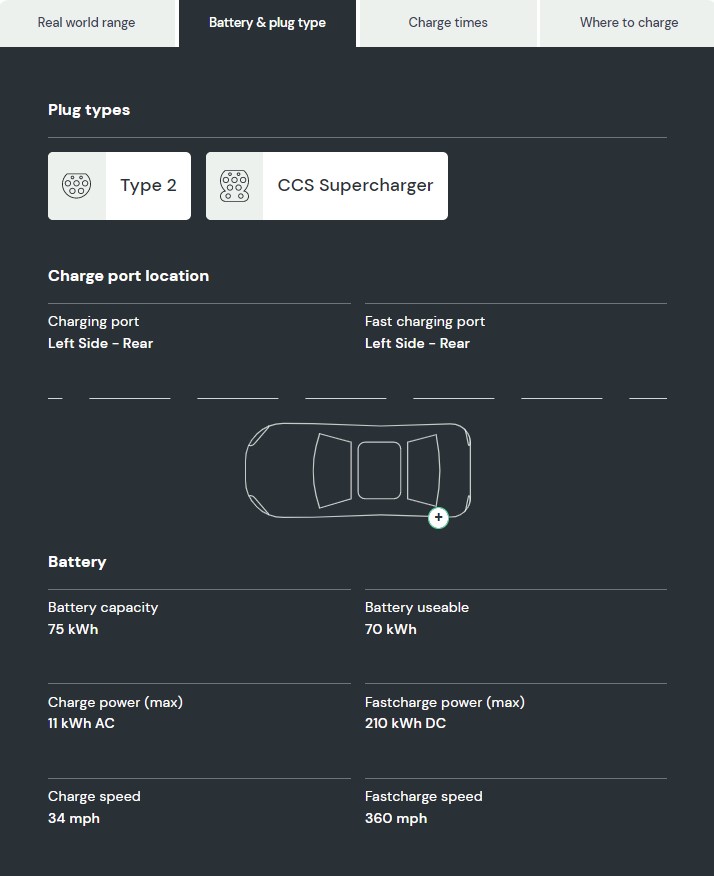 How long does it take for the Tesla Model Y Hatchback Long Range AWD 5Dr Auto?
To understand how long the Model Y SUV will take to charge on a 3-pin plug (domestic socket), 7 kW home charge point and rapid charger (DC charging) please see below.