Is the Tesla Model 3 the best car of 2020?
While 2020 will be known for many things (political and economic unrest, pandemics, lockdowns, furloughs, Brexits and general world's end …), one of the interesting elements to arise out of the year will be the awareness, and acceptance, of electric vehicles and their importance in our modern society. EVs are far from new.
The main issue is getting the general public to accept them as a legitimate form of transport. Part of the issue was that manufacturers were initially trying to recreate the vehicle; novel designs and future concepts were not helping the public accept electric transport as a mainstream idea. The ignorance about using electric vehicles, coupled with bad press, did a great job of turning customers away from a genuine solution and into petrol/diesel vehicles which were more expensive or less appropriate.
However, we have been fortunate to have a number of key changes which has pushed the electric car sector much further - early adopters in the content world such as Green Car Guide, Zap-Map, Fully Charged, plus some forward-thinking electric car charger installation companies - have created some great platforms for us all to operate on. In the leasing world, we were early to recognise the importance and subsequent growth of electric cars and we have now transformed our business to the extent that this is at the core of what we do.
Finally, the political pressure on carbon reduction and pollution control via clean air zones, congestion zones and company car tax has almost "forced" individuals and business to truly consider what their next green car will be. Eco car leasing is very much on the rise!
The best car of 2020?
What we cannot also underestimate is the influence of Tesla and the Elon Musk-era. 5 years ago, the prospect of an electric car being recognised as the leading option, particularly from an almost unheard of brand, would seem simply ludicrous. How could any manufacturer new to the industry genuinely compete with Audi, BMW and Mercedes?
The first concepts, in the form of the Model S and Model X, did an amazing job of breaking to the executive and luxury car markets. What Tesla proved is that people can easily operate an electric car and these vehicles do suit the demands of daily life. Very quickly they established that range-anxiety can be overcome and rapid charging solutions are possible.
After some sizeable investment, lots of changes, and some recognition the world woke up to Tesla to the extent that other electric vehicle options were almost forgotten about. However, the clear issue is cost; those early models were £60,000 and more! While the UK does have a market which can absorb this cost, it is not what we call a "mass-market" solution.
Quick to recognise this, Tesla produce the Model 3; not quite inexpensive, but a more cost-effective solution and one which gave choice outside of the BWM 3 series, Audi A4 and Mercedes C-Class. With Standard Plus, Long Range and Performance options, the Tesla brand have done enough to cover much of the UK's car market. Indeed, the removal of BiK for company car drivers from April 2020, fundamentally made these such a cheap car for many business users.
While the monthly rentals are generally a little more than the German equivalents, the £00's tax savings truly made this a perfect solution. It is no surprise that the Tesla Model 3 is not only the best car electric car of 2020, it is the best overall vehicle of 2020. Indeed, the Model 3 may go onto be recognised as one of the most influential vehicles to be introduced to consumers since the Model T Ford. Strong statements; but very difficult to argue with.
Will the latest option be even more popular?
The great aspect of Tesla is their consistent software updates and model revisions. Only 2/3 years in and the Model 3 recently was updated for December 2020 delivered vehicles. The bestselling Model 3 Long Range received a 30-mile range upgrade, as did the Standard Plus with the 15 mile addition.
We have also seen some nice aesthetic improvements with the model - dual-paned windows, auto dimming mirrors, powered tailgate, matte black finishes and new centre console arrangements. And the other great thing? Anything they miss can often be updated by the a software revision. For many Tesla drivers, they have been shown the new way of motoring in the modern world.
Tesla MODEL 3 SALOON Long Range AWD 4door Auto
In terms of the car shown, the Tesla MODEL 3 SALOON Long Range AWD 4door Auto [Pure Electric Vehicle], this is based on the following configuration: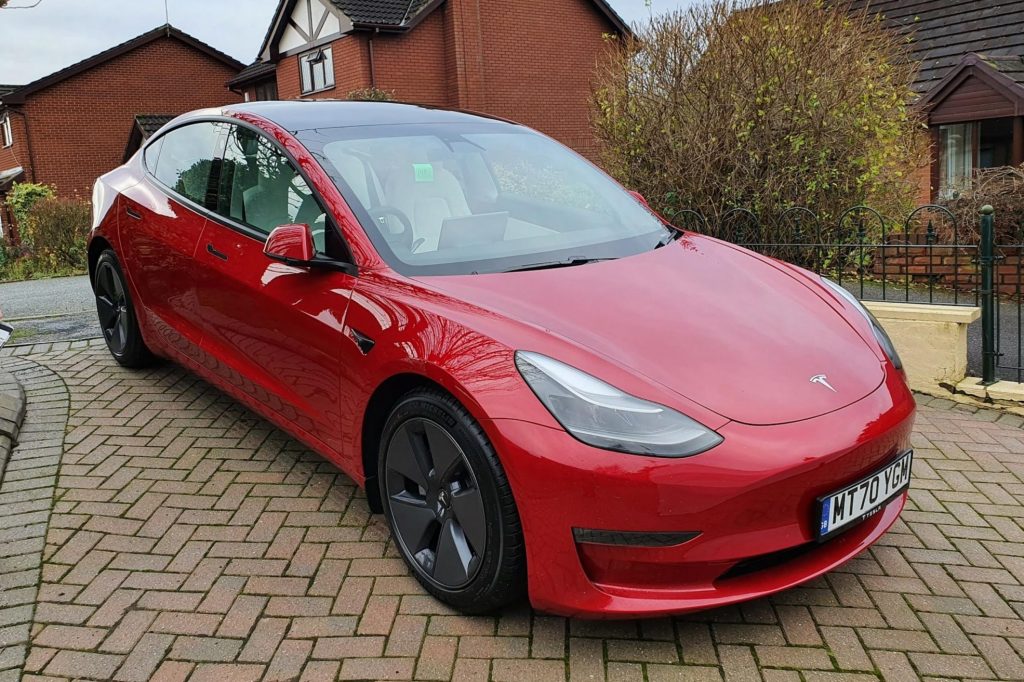 Red Additional multi-coat Paint
Premium material - Black and white with dash trims
Premium heated seating and cabin materials throughout including open pore wood décor and two rear USBs
18" Aero wheel
As standard the car includes automatic emergency braking with collision avoidance, adaptive steering, front parking sensors, lane departure warning, park assist camera.
Reverse parking sensor and aid, traffic sign recognition, powered tailgate, front cross traffic camera, 15" touchscreen, Dab radio, DVD system, premium audio with 14-speakers and 1 subwoofer, automatic high beam assist.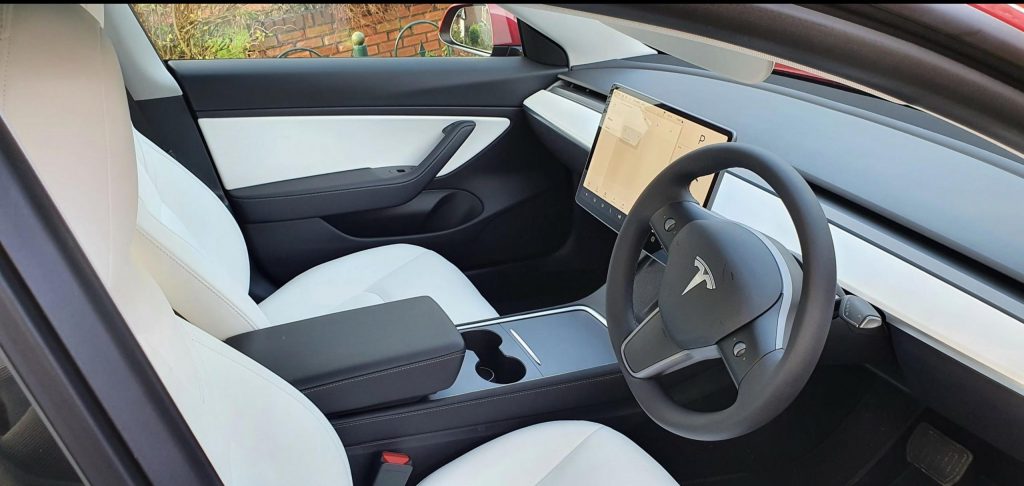 LED headlights and daytime running lights, tinted glass roof, ambient interior lighting, 60/40 split folding seats, premium heated seats in the front and rear, keyless entry, alarm and immobiliser.
Want more? You can add the 19" alloys or full self-driving capability if you wish!
On the technical side, company car and business users can note the P11d at £50,935 for a car with metallic paint and CO2 of 0g/km.
The 88 kWh lithium-ion battery will offer a 360-mile WLTP range which should equate to 250 miles in winter and 340 miles in mild weather on a full charge. During the year, this should equate to about 300 mile range.
Performance-wise, the Long Range should offer 350ps and 0-62 times of circa 4.2 seconds. Service intervals are every 24 months or 25,000 miles.
On the charging times, the Type 2 charge port via a 11kW AC charging unit should take 8 hours to offer a full charge. A 250kW DC ultra-rapid charger will take 20 minutes to provide 70/80% charge.