Should I Lease or Buy my new electric car - Personal Customers?
This is almost like some old adage which has haunted the leasing industry regardless of whether we have been discussing petrol, diesel, hybrid or electric vehicles. There is an obvious obsession in the UK that there needs to be some "best deal" or "correct solution" and yet the truth is something very different. There is no one fuel format, manufacturer or finance product which is ultimately going to be viewed as being a one-fit solution for any personal customer.
But there is often a best solution for YOU. By this we mean that after carrying out the necessary research, due diligence and education you should be able to reach some initial conclusions pertaining to the EV lifestyle, brand and form of finance which meets your needs and requirements. However, the e-car lease team would implore you not to fall into the trap of jumping to generalist conclusions and following the recommendations of those who are not experts or who are far from independent. To be clear, for the purposes of this article we are referring to an individual customer, as opposed to a business customer, as there are different considerations which form part of your decision-making process.
EVs are not for everyone. There … we said it. Electric / Battery cars are not for every single driver in the UK. This is a concurrent theme within our website, as we are not here to convince you to go electric above a combustion or PHEV. Our e-car lease website is a form of education to explain "why you could" transfer to an EV as opposed to the notion that "you should" transfer to an EV. The growth of electric cars can be accredited to the company car and salary sacrifice market, none of which relate to the true retail customer. But that doesn't mean that you shouldn't consider swapping your next new car from one with an engine to one with batteries. There are some valid reasons to consider, all of which are highlighted on our website. But these can be summarised as follows:
• EVs are great to drive - this is often overlooked as a reason to consider them. There is a real lack of understanding as to how EVs perform because some of the critics to the transition simply haven't spent enough time driving them. Moving to an EV is not some concession or compromise; many are much quicker to 62mph than their combustion equivalent. They are all auto (who wants to change gears?) They are smooth and effortless to drive. They are quieter. And while some drivers may say they miss the "purr of the engine", when you consider that each rev is costing you about £2 a go, the gimmick soon wears thin! 'Try before you say goodbye' springs to mind …
• EVs can be cheaper than petrol or diesel - moving away from BiK and company car tax, none of which relates to a PCH or PCP customer, there are valid cost reasons for moving to electric transport. The first, and most topical, point is that the cost of petrol is continuing to increase at an alarming rate. We are seeing £2+ a litre at fuel stations and a full tank costing £100+. This is without taking into account the concern of congestion zones or clean air zones adding further travelling costs to this fuel analysis.
In contrast, a full tank on an EV is much cheaper, even as the April 2022 price cap comes into fruition (rises to 28p per kWH). For lower mileage drivers in particular, the cost per mile is significantly better on an EV. And because an EV has less moving parts, not only are service intervals generally longer apart, the cost of carrying out the service is cheaper. Whole of Life costs are important - it's not just your monthly payment which should form part of your decision;
• EVs are attractive - the impression our automotive future was going to be a boring one (think Nissan Cube and Kia Soul) has thankfully been replaced with a much more exciting one. The latest products in 2021 and 2022 have seen some utterly beautiful vehicles being launched in the UK - Tesla Model Y, Porsche Taycan, Audi Q4, BMW i4, Cupra Born to name but a few. These are some of the leading vehicles available to lease today; and
• EVs are your future people - whether you like them, or not, the UK Government is absolutely committed to making you drive electric. And more recently, they have confirmed that this market is about to receive some huge investment to make it happen. In some ways, whether you want to buy or lease the EV, the sooner you make the transition, the better.
But should I be buying an electric car? Recent articles in our industry see Fleet News and Leasing Broker News have said that you may want to think otherwise, with contract hire seemingly saving nearly 20% on the cars reviewed on a PCH v PCP basis. See below (Credit to - https://leasing.com/).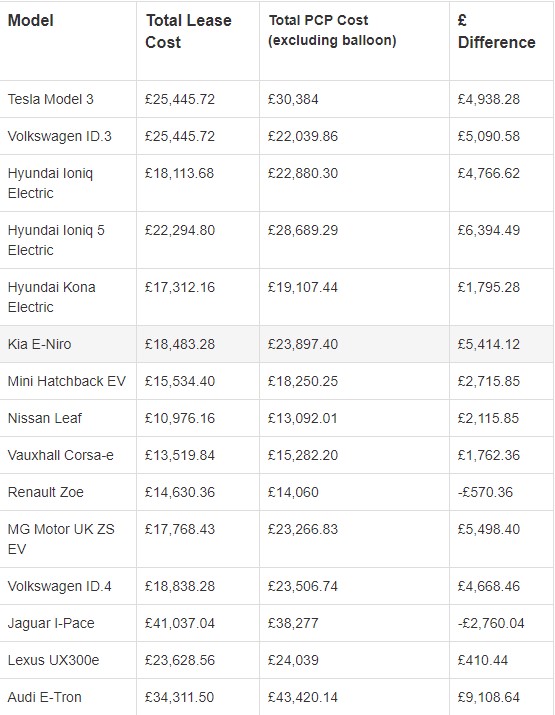 To be clear, contract hire (or leasing) is a fixed term usership product which is based on a term (2 - 4 years), fixed annual mileage (5,000 - 20,000 per annum commonly) and initial rental (also known as a deposit). A customer is provided with a monthly rental, based on the car and options selected, on their required contract. At the end of the term, unless the customer wishes to formally extend the contract by 6 or 12 months, this is simply returned to the finance company. There is no ability to purchase or own the vehicle at contract cessation.
One of the main reasons for the growth of leasing is that not only are there some great deals due to RVs and bulk-buying discounts, the product offers cost-certainty and with the ability to include maintenance, provides an individual customer with a comprehensive package. The term fixed-cost motoring is often used.
So I should always lease my EVs? This is not strictly true notwithstanding the research above. When you do say "buy" we often ask customers to clarify what they mean - cash purchase / hire purchase / PCP - which one are you referring to? In almost every case, it is the PCP (Personal Contract Purchase) which is used as a comparable example. Like contract hire, the customer will be charged a monthly payment based on their term, mileage and initial payment, taking into account the vehicle and options.
However, the key difference is that there is a GFV / Balloon (Guaranteed Future Value) at the end of the contract which the customer can either utilise to purchase the vehicle or sell it to a 3rd party. Historically, many customers would believe that a PCP allowed some inevitable equity to be built into their finance product. This is not true at all. The ability to "make money" on your PCP would be contingent on discount levels achieved at the time of purchase, the current residual value of the vehicle and the condition of the vehicle when being re-sold.
Perhaps the recent vehicle shortage has really ignited the PCP, as used-car values are particularly strong at the moment. Some customers have almost certainly been benefitting from the current market and leasing customers have been looking at this with envy. But when supply changes, will this be the case? In our opinion, not at all. The market is somewhat circumstantial.
For customers looking to use a car for a pre-determined time and swap for a new one, then the leasing route is conceivably the right one. For those customers who do want the ability to purchase the vehicle then a PCP would be a consideration. But do spend time understanding the nuances of each product to avoid falling for payment-led marketing and hearsay analysis.
Vauxhall MOKKA-E ELECTRIC HATCHBACK 100kW Elite Premium 50kWh 5dr Auto
In terms of the car shown, the Vauxhall MOKKA-E ELECTRIC HATCHBACK 100kW Elite Premium 50kWh 5dr Auto, this is based on the following configuration: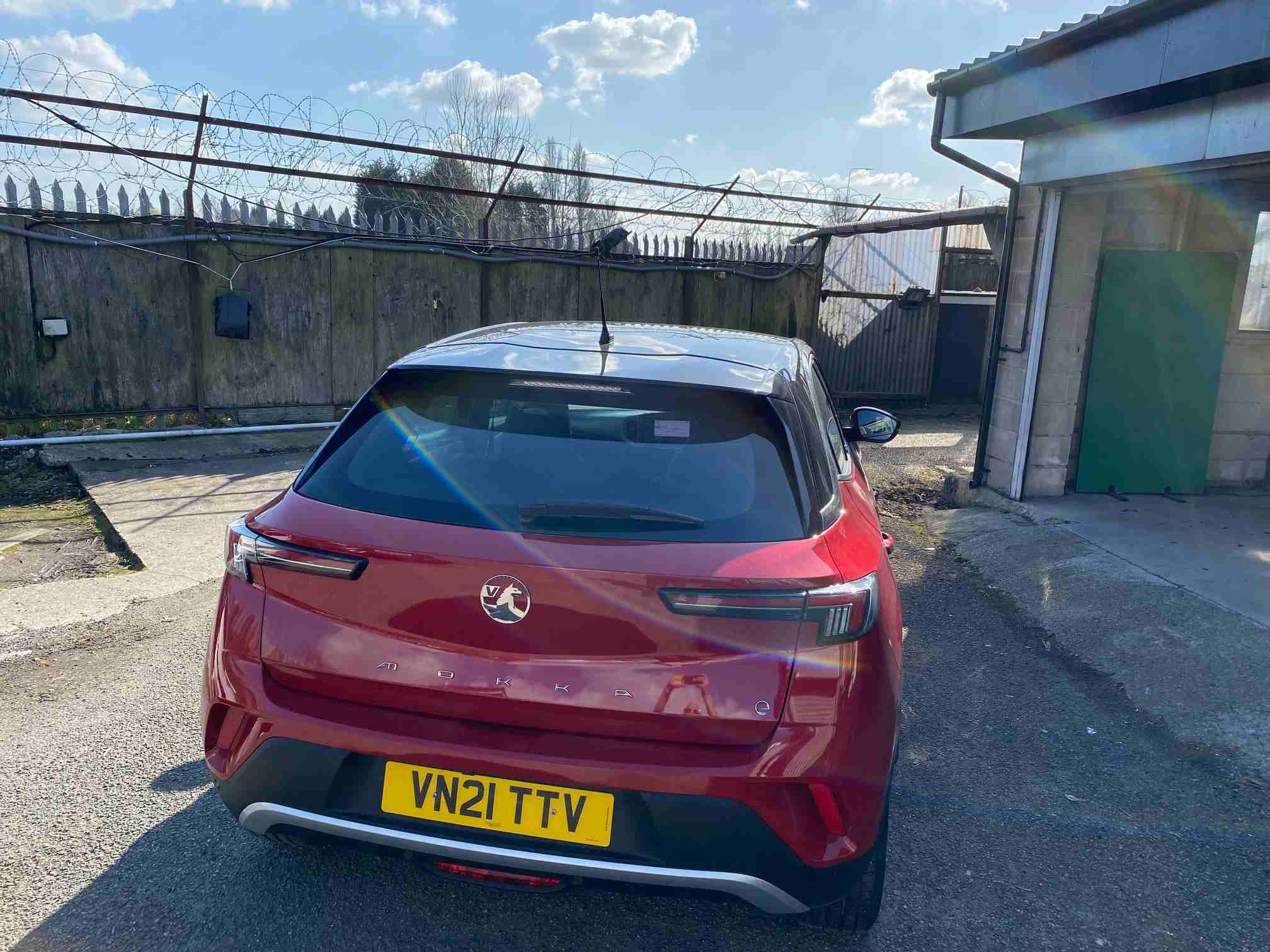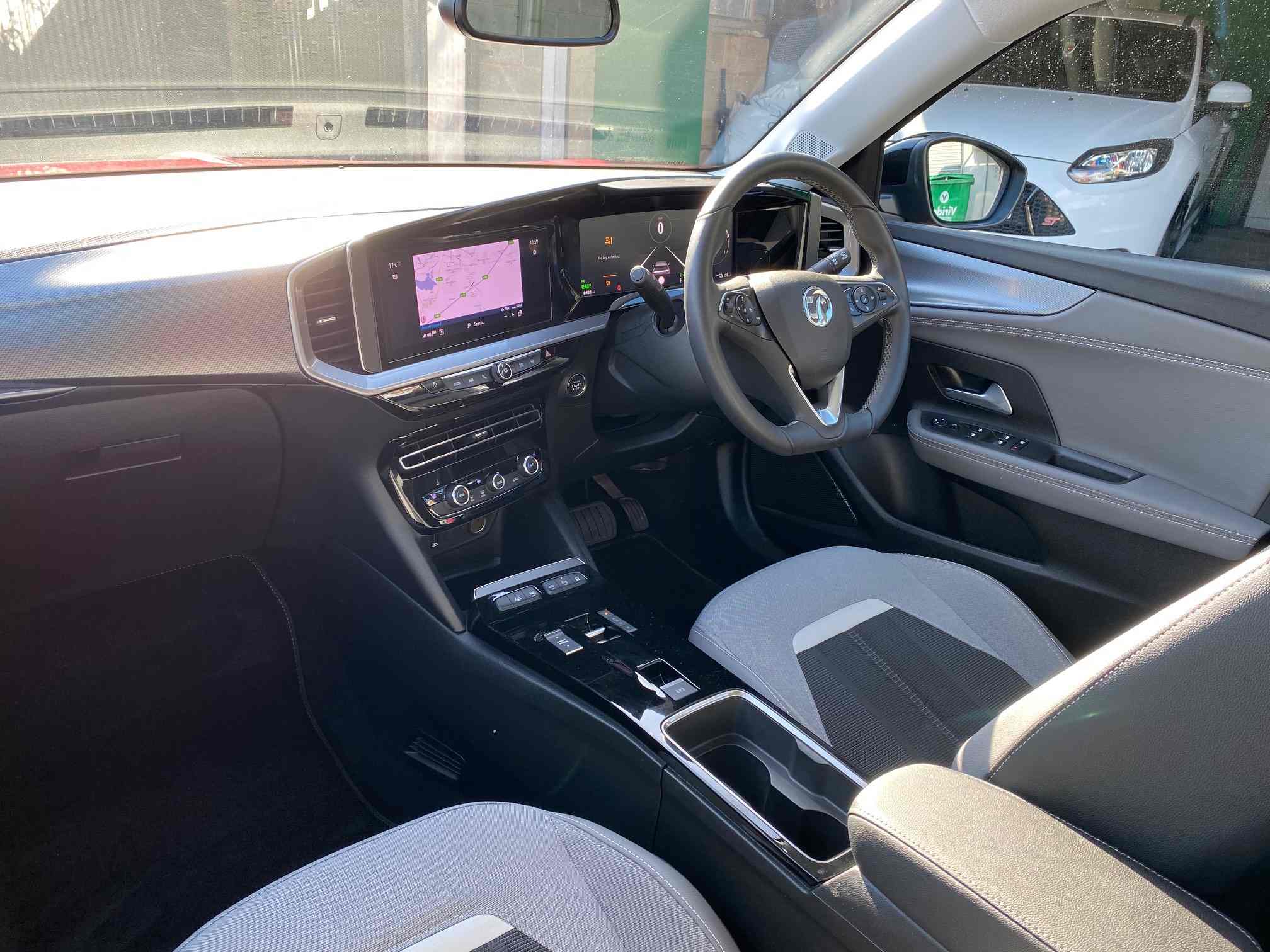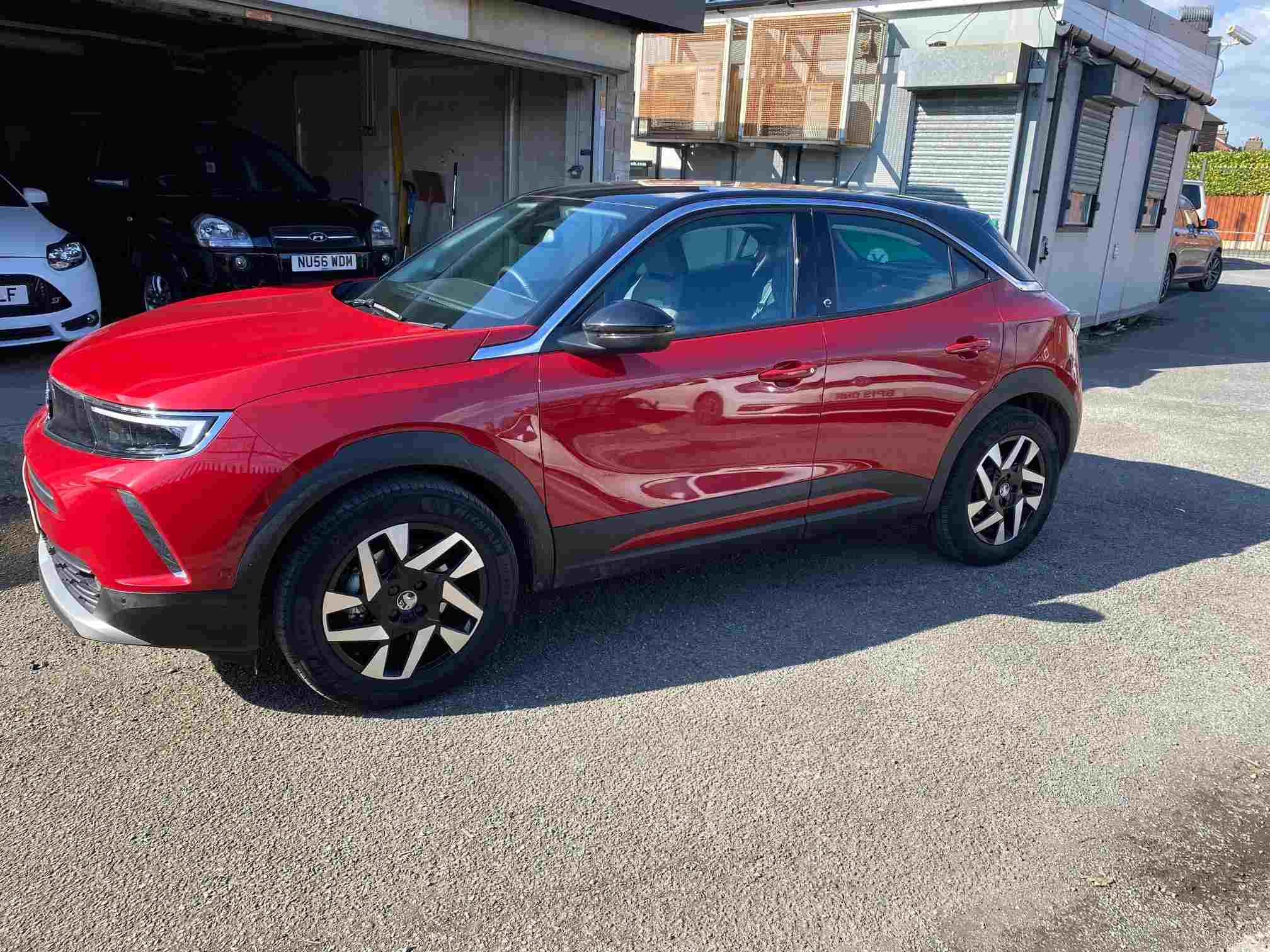 • Premium metallic paint - Power red
• Fabric/Leather effect - Jet black fabric leather-effect seat trim insert
• 17" bi colour alloy wheels
As standard the electric Mokka Elite includes some great specification including - 10" touchscreen with Nav, 17" alloys, rear view camera, 12" instrument display, heated seats, heated steering wheel, front/rear parking sensors, blind spot alert, speed sign recognition, electrically adjustable, heated and folding door mirrors, LED lights, keyless entry and start, hill start assist, forward collision assist.
In terms of the range of the electric Mokka, please see the e-car lease analysis below: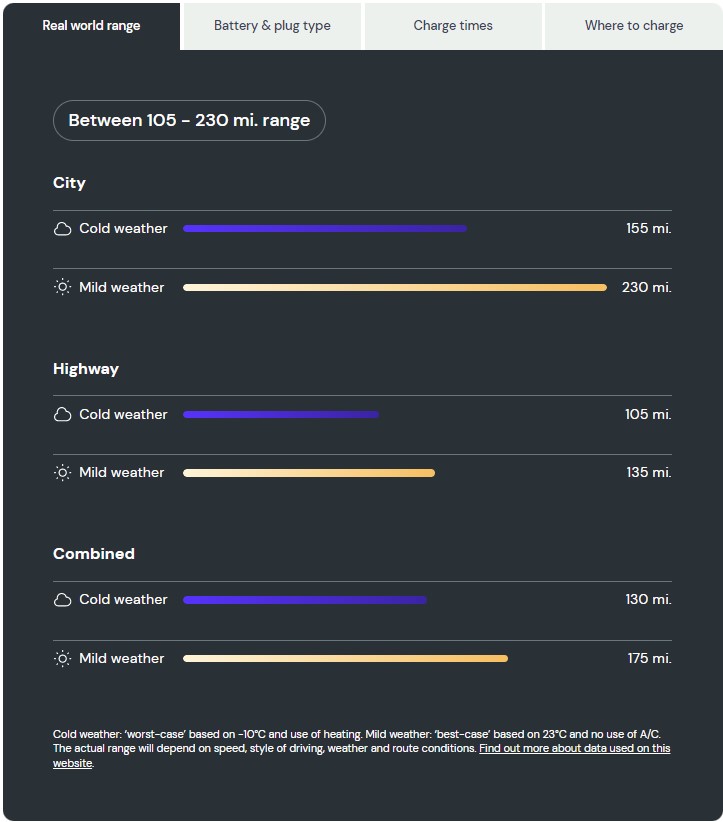 In terms of the charge port / charging analysis of the electric Mokka, please see the e-car lease analysis below: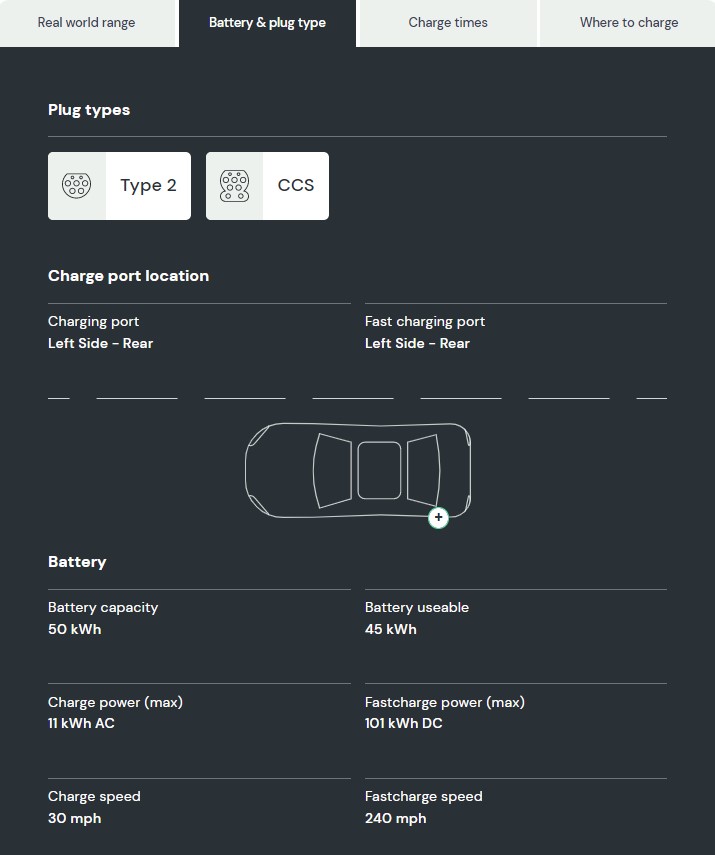 In terms of the charging times on the electric Mokka, please see the e-car lease analysis below