Is now the time to go for a "plug-in" car?
Our Pembrokeshire business customer was more than happy to add a pair of these beautiful Merc GLC's to their growing fleet - the AMG Line Plug-In diesels. Like many company car drivers, the quandary on the 'next car' is no longer just about specification, style and functionality; we are now facing a try conundrum on fuel choices.
Should I go electric? Should I consider diesel? Which is the best fuel for a car in 2020?
These are all sensible questions to raise and, as you will see day-to-day in the press, very topical. The key to choosing the perfect car is about education and understanding the whole of life costs.
By this we mean, the monthly price is a consideration but it is not THE consideration. Using some simple tools and measures, you can easily ascertain the correct route moving forwards.
The move towards a PHEV, or Plug-In Hybrid Electric Vehicle, has been a logical one. Customers are attracted to electric vehicles for obvious reasons - company car tax, cost-effectiveness and eco-friendliness. However, there is a still a reticence about making the jump into a fully electric car - most of the time this is just because the customer doesn't really understand the full picture and have not been properly educated.
The key to choosing the perfect car is about education and understanding the whole of life costs.
In contrast, the PHEV offers a comfort blanket. The combination of a combustion engine (generally petrol) coupled with the bigger lithium-ion battery makes the customer feel both protected against range anxiety while topping up their "climate conscience". These are also some business lease customers who want to enjoy the enhanced BiK rates which a PHEV offers.
Depending on its pure electric range, these cars can offer a 10-20% saving on tax compared to a petrol or diesel alternative. In real terms, this means hundreds of pounds per month in tax savings. Who wouldn't want to enjoy that??!!
How do I charge a hybrid vehicle?
There are very much mixed feelings on PHEVs, there is an opinion which says they are an unnecessary tax-avoidance system and another which says they introduce the customer to the concept of electrification in a considered way. Unlike a hybrid vehicle (or self-charging hybrid as you will see it called) the PHEV needs to be plugged into an external source in order to effectively be charged.
You must physically connect the car via a lead to a 3-pin socket or connect it to an external 7kW car charging unit. You do need to ensure that you have the correct leads. While most cars are what we call Type-2 connection, when you plug into an external source you need the right connection to go into the charging infrastructure you are using.
When you order your car check to see you have both a 3-pin connection and a Type 2 cable, so you can effective charge in both. Regardless, the act of charging the vehicle provides you with some idea as to how running an EV operates. Because many PHEVs have no more than 20/30 mile range batteries, the main difference on charging is the time it takes.
Using a 7kW charge point, it is a 1-2 hour exercise to achieve the correct charge. But, unlike an pure EV, when you don't charge the PHEV, the car will operate correctly albeit much less efficiently than what you expected. It is difficult to say whether all of this makes a PHEV a gateway to electric or not.
So is a PHEV better than standard combustion engine?
One could argue that the prospect of a fully-charged and well-operated PHEV is a better outcome than the standard combustion alternative. When correctly administered, you have the ability improve efficiencies on MPG while enabling some pure electric driving; particularly in congested urban zones where pollution is a concern for many local authorities.
With annual mileage on the decline due to COVID-19, the necessity for a long range combustion engine is reducing. Indeed, many of journeys are now shorter and stop/start. This almost certainly lends itself the technology we are looking at here. You also have that added value of learning about battery use and charging. For some customers, the transition is a steady one and we can understand where annual mileage exceeds 15,000, the push into pure EV is a cautious one.
Again, as a credit broker, not a lender or dealer, we are here to present you with information on making an informed choice and decisions. We are not here to convince you that a PHEV or EV is the best way forward. What we don't enjoy seeing (which is where the conjecture arises) is those situations where drivers are using PHEVs to achieve lower BiK exposure and are not effectively charging the car. This defeats the whole concept of electrification and sustainability.
Mercedes-Benz GLC DIESEL ESTATE GLC 300de 4Matic AMG Line 5dr 9G-Tronic
In terms of the car shown, the Mercedes-Benz GLC DIESEL ESTATE GLC 300de 4Matic AMG Line 5dr 9G-Tronic (Plug-In Hybrid Electric Vehicle - PHEV), this is based on the following: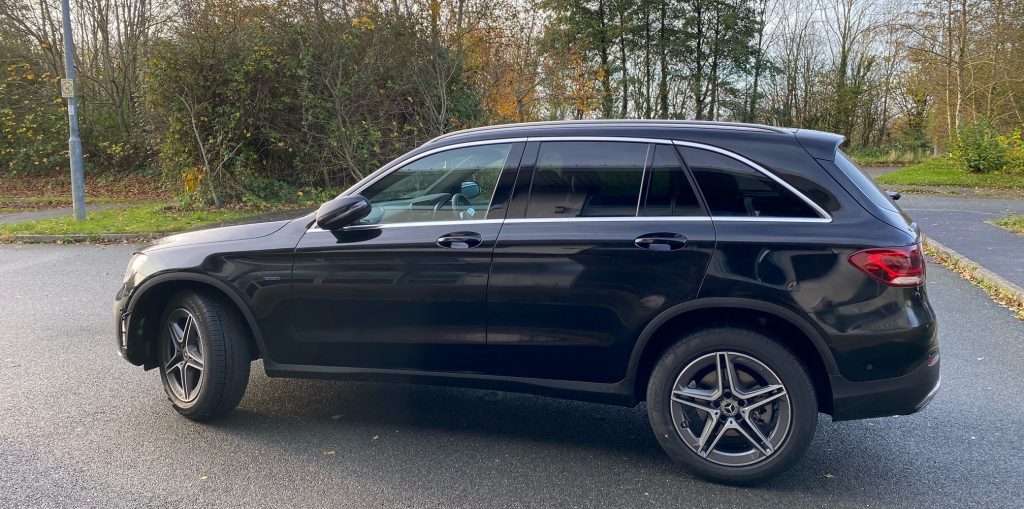 Obsidian Black Metallic Paint
Artico man-made leather/DINAMICA microfibre - black
Open pore grey oak wood trim
19" AMG 5 twin spoke alloy wheels painted tremolite grey with high sheen finish and tirefit
As standard, the car includes privacy glass, rain sensing wipers, brake callipers with Mercedes lettering, adaptive brake system, hill hold function.
AMG floor mats, active parking assist, attention assist, collision prevention assist, revering camera, automatic power tailgate, MBUX multimedia system with DAB radio, electrically adjustable and heated door mirrors, navigation.
AMG bodystyling, adaptive brake lights, 3-spokemultifunction steering wheel, sport pedals, interior lighting pack, mirror pack, LED performance headlights, storage pack, sports seats, heated front seats, keyless-go, 19" alloys and an alarm/immobiliser.
On the technical side, company car and business users can note the P11d at £49,320.00 and CO2 at 49g/km.
The 13.5kWh battery is coupled with a 1950CC 9 speed diesel engine. This offer a pure electric range if circa 25 miles and combined MPG of 140. On the performance, the 306ps output will get the car to 62mph in 6.2 seconds.