The End of the Plug-In Grant - an axe to EVs ... but a blunt one?
On 14 June 2022, the UK's electric vehicle market awoke to an update from the Government to confirm that their Plug-In Car Grant Scheme (PICG) had been removed with immediate effect. This was a highly reported story, with many media outlets, including the BBC, suggesting this was a concerning development and would lead to obstructions with the ongoing electrification of the UK's car fleet.
It's easy to knee-jerk when stories like this launch, particularly when it's released at a time when the new car industry is suffering with microchip shortages, parts shortages, increased prices and lower discounts. The false economy in the used car industry is essentially a by-product of these ongoing challenges. But with more manufacturers converting to pure electric models and some stock now making its way to our e-car lease customers, it is unsurprising that some of the major online retailers are now closing or announcing serious cutbacks. But will the PICG stall our EV momentum?
What is the PICG?
The grant is by no means a new concept, having been launched in 2011 to support the UK company car and personal car market move across to a new form of fuel - electric. The Government recognised that incentives were required to encourage changes within our car buying / leasing behaviours and with many plug-in cars being somewhat more expensive (and limited), it was fundamental to support the manufacturer efforts and investment.
At the time of inception this grant was set at £5,000 for any "plug-in cars", which effectively resulted in both pure EVs and PHEVs equally benefitting. As at 2011 less than 1,000 fully electrics were registered in the UK due to product limitations and expense. It's also worth noting that the incredibly low Benefit in Kind (BiK) only came to fruition in 2020, starting at 0% before increasing to a modest 2% at today's date (and in place until at least 2024/25). Not to add the lack of charge points too!
Has the PICG only just changed?
Over the last 10 years, the PICG has been revised and amended as part of the Government's balancing strategy with the EV transition - there is support for vans, taxis, charge points and other "green measures" too. Some of the key changes to the PICG included a reduction to £4,500 grant (and an exclusion on those vehicles above £60,000) around 2014-2015, a 2018 reduction to £3500 and a further cut in March 2020 to £3000.
As part of these alterations, the Government used CO2 emissions to vary the grant levels until such point that only zero-emission (0g/km) were included as eligible. At March 2021 the PICG was set at £2500 for those vehicles priced under £35,000 before being further amended in December 2021 to vehicles priced at £32,000 benefitting from a £1500 grant. By the end of May 2022, the SMMT reported that 92,512 EVs had been registered, which is a 71% increase on 2021! Also quite incredibly, nearly 15,500 EVs were registered in May 2022, which equates to a 12% market share.
Credit to the SMMT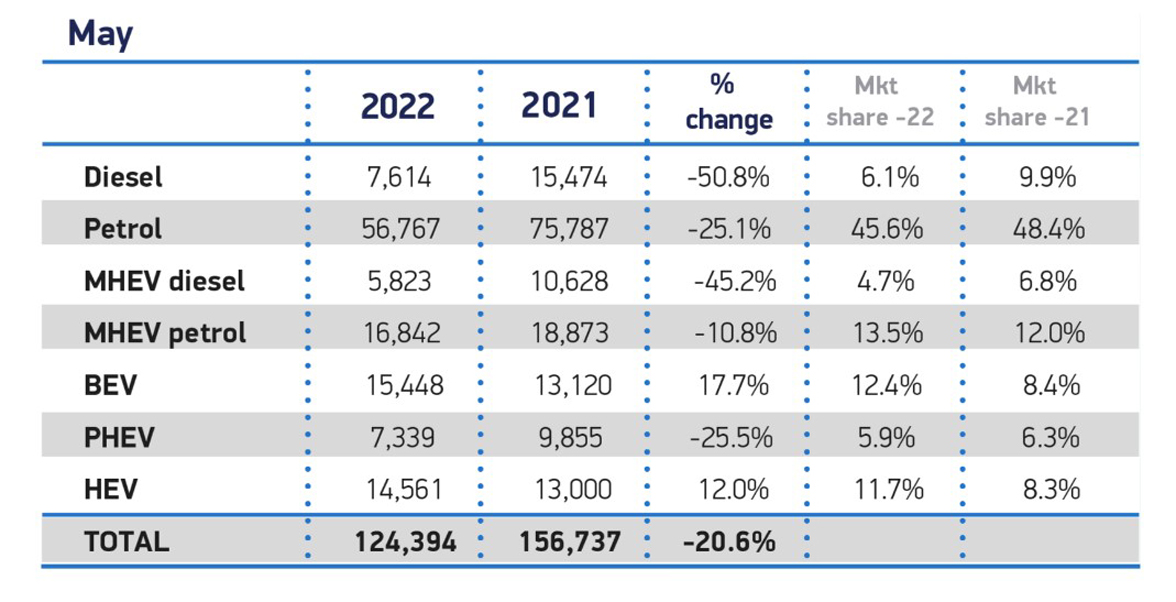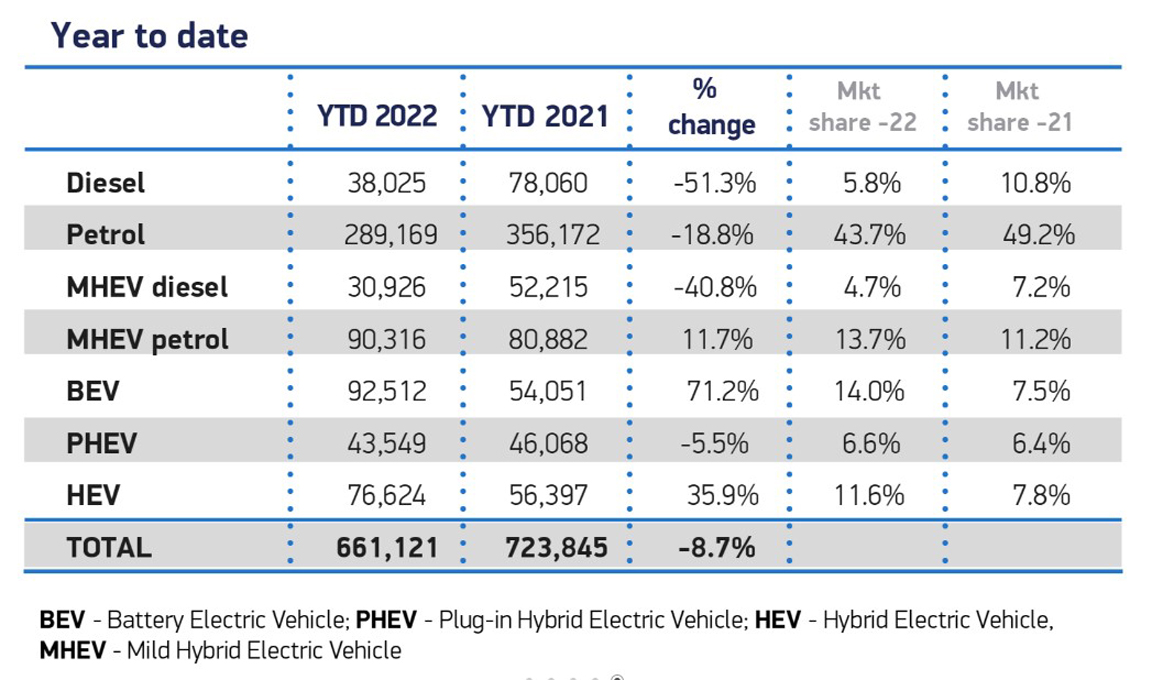 Did we expect the PICG to change?
Some of the conjecture suggests that this grant ending was a shock to our industry. The truth is that it wasn't and we were all conscious this was a borrowed-time type of incentive. In their July 2021 report on transition to zero emission vehicles - Transitioning to zero emission cars and vans: 2035 delivery plan the Government said "We will continue to fund the plug-in grant until at least 2022/23". The report also makes it clear that the plug-in grant will be reduced over time, with other incentives and initiatives being reviewed as part of the EV transition. The hope was that the plug-in grant would stay until at least December 2022, as part of enhancing consumer confidence, but the continuing growth in the EV industry has caused the Government to revaluate. We are now victims of our success.
Is the EV grant ending?
Is there any way to get the PICG? As per the Gov website, there is a strict liability approach to grant changes. As soon as it gets announced, the dealerships we work alongside are precluded from utilising any £1500 grants. The only caveat is those applications which fulfil the following criteria - "All existing applications for the grant will continue to be honoured and where a car has been sold in the 2 working days before the announcement, but an application for the grant from dealerships has not yet been made, the sale will also still qualify for the grant."
To be clear, unless you or your business ordered the vehicle, there is no flexibility or discretion with the PICG. Unfortunately, if you did not place your order, you will need to ask for a revised leasing quotation or purchase price.
How significant is it - should we be worried?
To be clear, the grant has been reducing (on average) by about £500 per year since its launch. Not to mention that it has been reserved for "cost-effective" vehicles only - of which there is a narrow list (see below). While it feels like the Government is not supporting us, we don't actually agree with this sentiment. We were all aware of the timescale on the grant and thousands of our CarLease and e-car lease customers have benefitted from varying amounts of financial support.
Moving forwards, manufacturers, who have continually increased the list price on their vehicles (some in line with the grants), have the ability to rationalise their prices as part of helping customers in the affordable EV market. It is now being shown that EVs are more profitable for many manufacturers, so why not pass some of this benefit across to the customer? For company car and salary sacrifice drivers, the 2% BiK clearly negates much of this change to the grant. But for all EV drivers, the Whole of Life cost savings which relates to the fuel, servicing and maintenance are still very much evident. This will not thwart the popularity of EVs and by July, most of us won't even talk about it.
What cars are impacted by the Plug-In Grant ending?
Just to be clear on what BEVs have been affected by the plug-in grant changes, please see below:
Citroen Berlingo E-berlingo Electric Estate 100kW Feel M 50kWh 5Dr
Citroen Berlingo E-berlingo Electric Estate 100kW Feel XL 50kWh 5Dr
Citroen Berlingo E-berlingo Electric Estate 100kW Flair XTR M 50kWh
Citroen Space Tourer E-space Tourer Electric Estate 100kW Business Edit
Citroen Space Tourer E-space Tourer Electric Estate 100kW Business Edit
Citroen Space Tourer E-space Tourer Electric Estate 100kW Business Edit
Citroen Space Tourer E-space Tourer Electric Estate 100kW Business Edit
Citroen C4 E-c4 Electric Hatchback 100kW Sense 50kWh 5Dr Auto
Citroen C4 E-c4 Electric Hatchback 100kW Sense 50kWh 5Dr Auto
Fiat 500 500 Electric Cabrio Special Editions 87kW Red 42kW
Fiat 500 500 Electric Hatchback Special Editions 87kW Red 4
Fiat 500 500 Electric Hatchback Special Editions 70kW Red 2
Fiat 500 500 Electric Cabrio 87kW Icon 42kWh 2Dr Auto
Fiat 500 500 Electric Hatchback 70kW Action 24kWh 3Dr Auto
Fiat 500 500 Electric Hatchback 87kW La Prima 42kWh 3Dr Aut
Hyundai Ioniq Ioniq Electric Hatchback 100kW Premium 38kWh 5Dr A
Hyundai Kona Kona Electric Hatchback 100kW SE Connect 39kWh 5Dr
Hyundai Kona Kona Electric Hatchback 100kW Premium 39kWh 5Dr Au
Mazda Mx-30 Mx-30 Hatchback 107kW Se-l Lux 35.5kWh 5Dr Auto
Mazda Mx-30 Mx-30 Hatchback 107kW Sport Lux 35.5kWh 5Dr Auto
MG MG5 MG5 Electric Estate 115kW Excite EV 53kWh 5Dr Auto
MG MG5 MG5 Electric Estate 115kW Excite EV 61kWh 5Dr Auto
Mini Cooper S Electric Hatchback 135kW Cooper S Level 1 33kWh 3D
Mini Cooper S Electric Hatchback 135kW Cooper S Level 2 33kWh 3D
Nissan Leaf Leaf Hatchback 110kW Acenta 39kWh 5Dr Auto
Nissan Leaf Leaf Hatchback 110kW Acenta 39kWh 5Dr Auto [tech P
Nissan Leaf Leaf Hatchback 110kW N-connecta 39kWh 5Dr Auto
Nissan Leaf Leaf Hatchback 110kW Tekna 39kWh 5Dr Auto
Nissan Leaf Leaf Hatchback 110kW N-connecta 39kWh 5Dr Auto [pr
Nissan Nv200 Combi E-nv200 Combi Electric Estate 80kW Visia 40kWh 5Dr
Nissan Nv200 Combi E-nv200 Combi Electric Estate 80kW Visia 40kWh 5Dr
Nissan Leaf Leaf Hatchback 110kW N-connecta 40kWh 5Dr Auto
Nissan Nv200 Combi E-nv200 Combi Electric Estate 80KW Visia 40kWh 5Dr
Nissan Leaf Leaf Hatchback 110kW Acenta 40kWh 5Dr Auto [6.6kw
Peugeot 208 E-208 Electric Hatchback 100kW Allure Premium 50kW
Peugeot 208 E-208 Electric Hatchback 100kW Active Premium 50kW
Peugeot 208 E-208 Electric Hatchback 100kW Active Premium 50kW
Peugeot 208 E-208 Electric Hatchback 100kW Allure Premium 50kW
Renault ZOE ZOE Hatchback 100kW GT Line + R135 50kWh Rapid Cha
Smart Fortwo Coupe Fortwo Electric Coupe Special Editions 60kW EQ Bra
Smart Fortwo Cabrio Fortwo Electric Cabrio Special Editions 60kW EQ Br
Smart Forfour Hatchback Forfour Electric Hatchback 60kW EQ Premium 17kWh 5
Smart Forfour Hatchback Forfour Electric Hatchback 60kW EQ Exclusive 17kWh
Smart Fortwo Cabrio Fortwo Electric Cabrio 60kW EQ Premium 17kWh 2Dr A
Smart Fortwo Cabrio Fortwo Electric Cabrio 60kW EQ Exclusive 17kWh 2Dr
Smart Fortwo Coupe Fortwo Electric Coupe 60kW EQ Premium 17kWh 2Dr Au
Smart Fortwo Coupe Fortwo Electric Coupe 60kW EQ Exclusive 17kWh 2Dr
Smart Fortwo Coupe Fortwo Electric Coupe Special Editions 60kW EQ Edi
Smart Fortwo Coupe Fortwo Electric Coupe Special Editions 60kW EQ Rac
Vauxhall Mokka Mokka-e Electric Hatchback 100kW Ultimate 50kWh 5D
Vauxhall Vivaro Life Vivaro-e Life Electric Estate 100kW Combi M 50kWh
Vauxhall Combo Life Combo-e Life Electric Estate 100kW SE 50kWh 5Dr Au
Vauxhall Combo Life Combo-e Life Electric Estate 100kW SE 50kWh 5Dr Au
Vauxhall Combo Life Combo-e Life Electric Estate 100kW SE XL 50kWh 5Dr
Vauxhall Corsa Corsa-e Electric Hatchback 100kW GS Line 50kWh 5Dr
Vauxhall Corsa Corsa-e Electric Hatchback 100kW SE Nav Premium 50
Vauxhall Corsa Corsa-e Electric Hatchback 100kW SE Nav Premium 50
Vauxhall Corsa Corsa-e Electric Hatchback 100kW SRi Nav Premium 5
Vauxhall Vivaro Life Vivaro-e Life Electric Estate 100kW Combi L 50kWh
Vauxhall Corsa Corsa-e Electric Hatchback 100kW Elite Premium 50k
Volkswagen Id.3 Id.3 Electric Hatchback 110kW Life Pure Perform 45
Volkswagen UP UP Electric Hatchback 60kW E-up 32kWh 5Dr Auto