The new Renault Megane E-Tech-Your Definitive Guide
Renault are anything other than new to the electric car market; their Zoe hatchback has been in production since 2012! But with over 10 years of electric experience, it was somewhat bizarre that the French automotive manufacturer did not evolve or introduce new options for European customers to enjoy.
While the Zoe has been one of the cheapest EVs, and a consistently top-seller, since 2020 there has been a swathe of new products from an array of global car makers within this segment - Hyundai Kona, MG ZS, Cupra Born, VW ID.3, BYD Atto 3, Skoda Enyaq - to name but a few of the similar comparisons.
Why Renault only concentrated on their Zoe hatch and the Kangoo EV van was slightly perplexing, as the demand for zero-emission options really exploded and the opportunity to capitalise on this was, to some extent, missed by Renault's reticence to get more product into the UK's leasing market.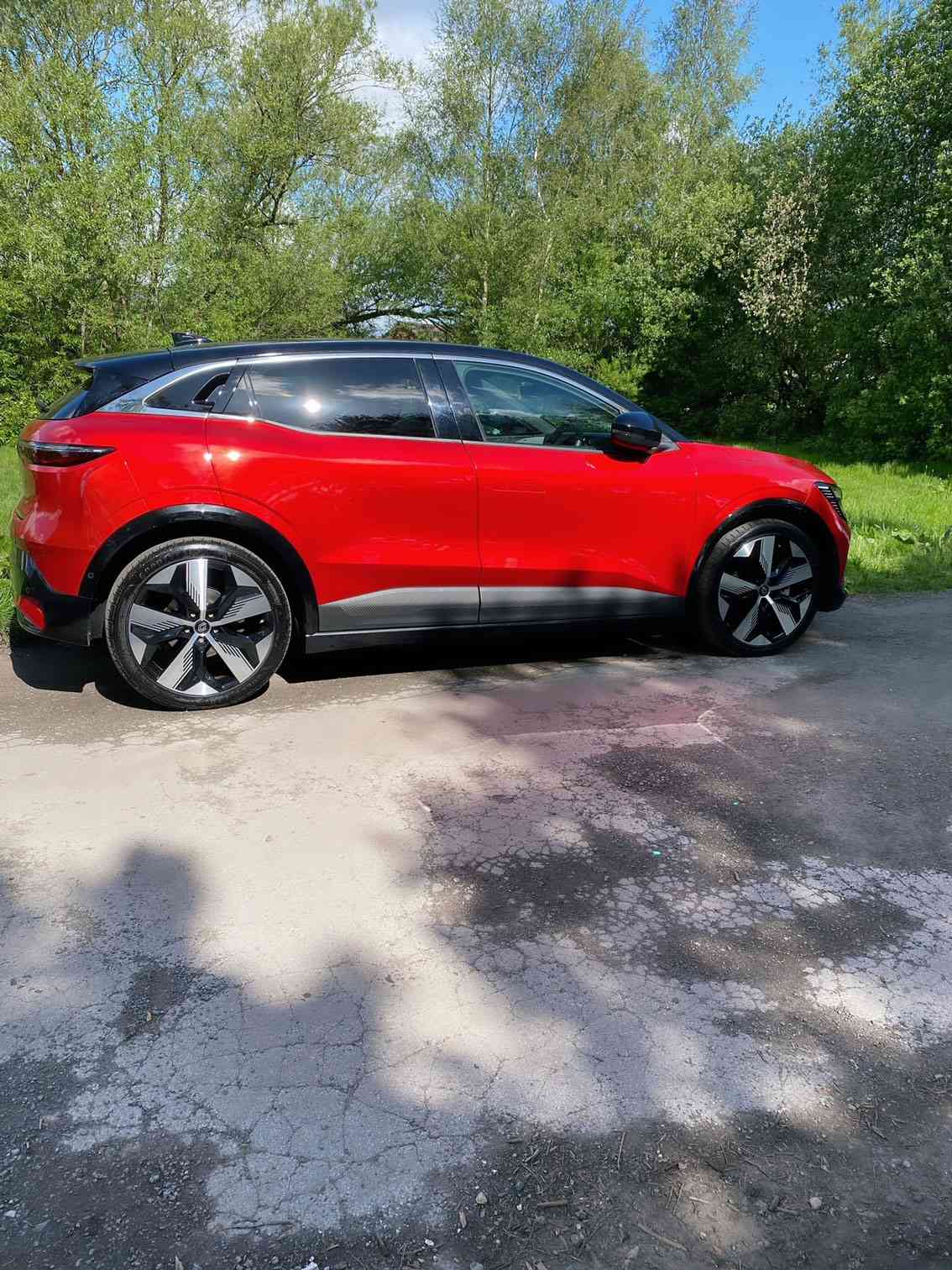 But towards the end of 2020, the group launched a Megane eVsion concept car, with a production protype following in mid-2021 (where it was renamed as E-Tech). While some of the shape and contours are Megane-inspired, the frame was very much SUV and family-car focused, in-keeping with what customers tend to want for modern living.
Planned for release during 2022, it was only towards the end of 2022 / early 2023 when this became available to buy or lease for UK customers. As at May 2023, the Renault website is now showing four options for UK consumers / businesses including:
Equilibre - from £37,000 the base model includes 18" alloys, 9" openR link multimedia system, 12.3" driver information display, automatic emergency braking, level 1 autonomous driving, full LED lights, heated door mirrors, rear park assist, rear parking camera, climate control and wireless smartphone charging;
Techno - from £39,500 this model includes 20" alloys, upgraded Arkamys audio system, adaptive cruise control and multisense (with ambient interior lighting), level 2 autonomous driving, heated steering wheel ;
Iconic - from £42,000 this model includes 20" alloys, upgraded harman kardon audio system, around view 3D camera and a heat pump; and
Launch Edition - from £41,000 this model includes 20" alloys, upgraded harman kardon audio system, around view 3D camera.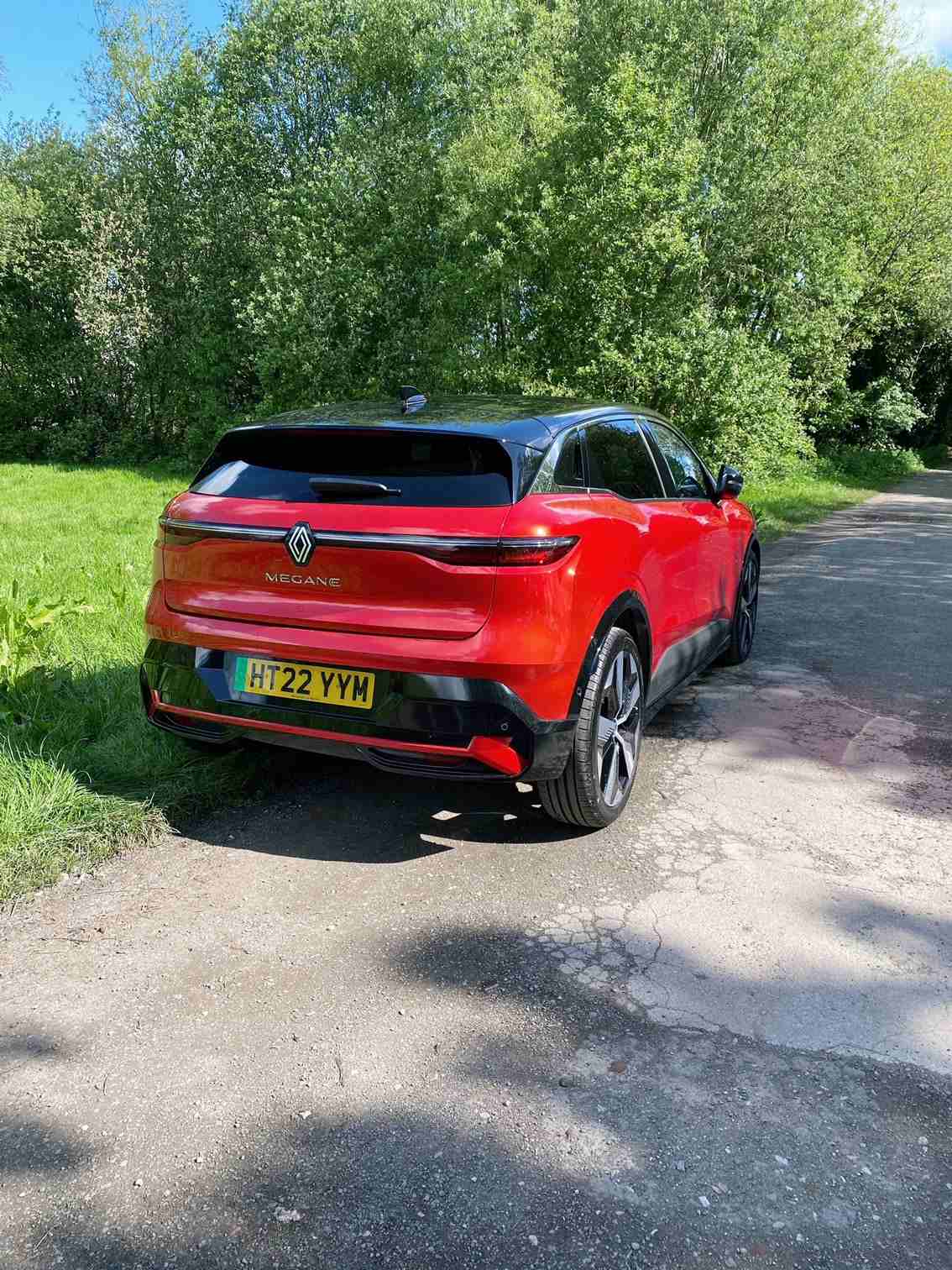 Choose from a host of colour options like diamond black, glacier white, flame red and midnight blue plus configurable roof colour options with both a shadow grey roof and diamond black roof available.
And is the electric Megane any good?
The 60 kWh lithium-ion battery will offer 0 – 62 times of 7.4 seconds, 99 mph top speeds and 160 kW (or 215hp). The initial model will be FWD. Expect a combined winter range of 195 miles with warmer weather allowing for 275 miles. On charging, the 22 kW AC max will allow 3 hour and 15 min 0 – 100% charging times with the 129 kW DC maximum allowing 30 minute 10 – 80% times. A spacious family SUV, this will still have a robust cargo volume, towing capacity (braked) at 900kg and 750kg (unbraked) and vehicle fuel equivalent of 158 mpg.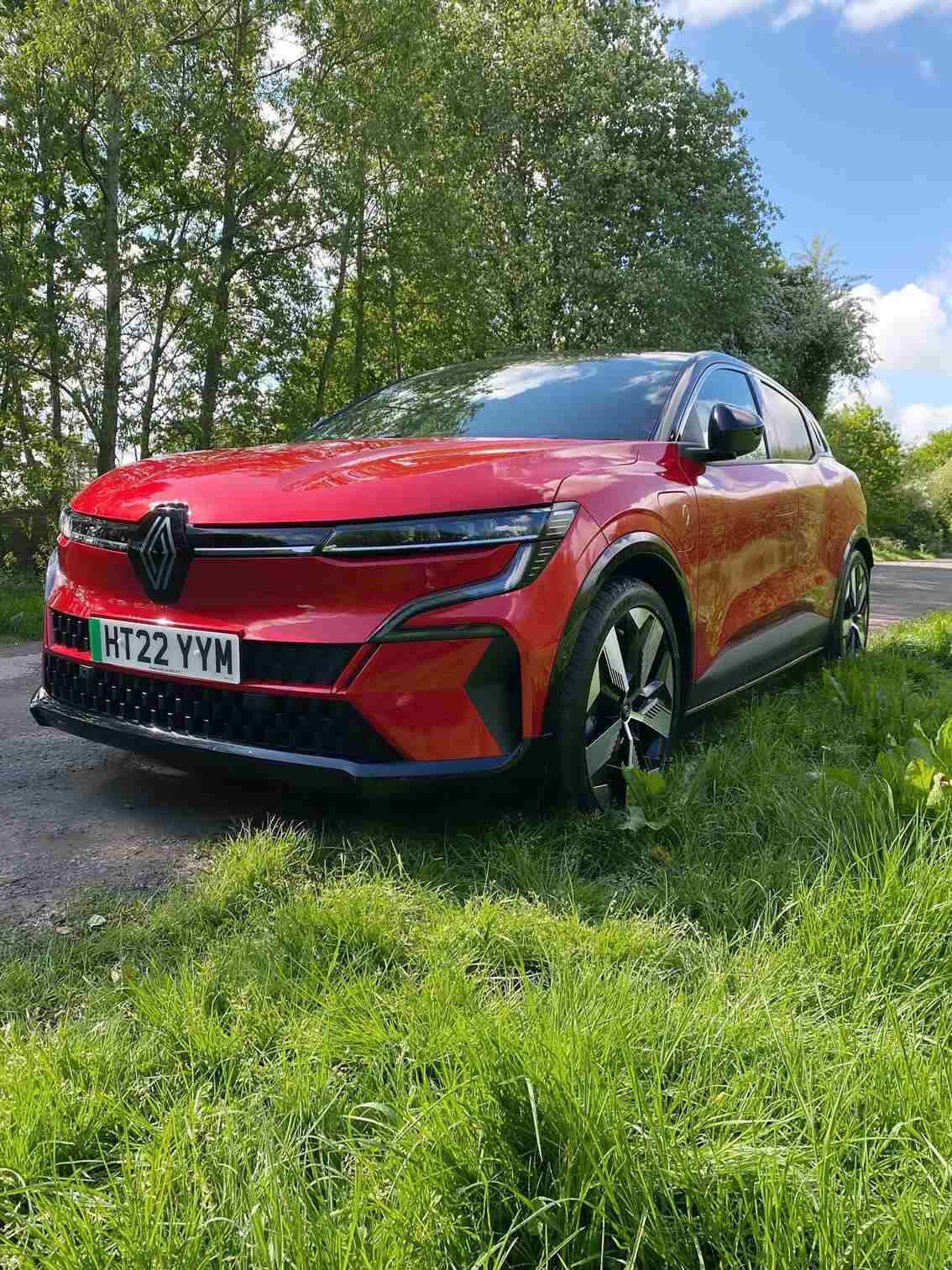 To what extent this is a good EV will depend very much on the needs and requirements of the customer. To help personal and business leasing customers truly understand this aspect, our EVC™ certificates present the key details which any new EV customers need to understand at the point of sale.
Not all electric cars, and vans, perform the same in terms of range, charging capabilities and performance. Unlike many websites, the e-car experts will help you or the business to understand the impact of speed and weather on the range and outline how AC and DC charging sessions differentiate (and what this means to you in terms of charging times). It's easy to use WLTP best-case scenario figures or suggest that your new EV can charge while you "grab a coffee".
But this just isn't true and there are far more elements to consider beyond headline stats and figures. This is why the UK experienced such anti-EV conjuncture during Christmas 2022, with weather and charging infrastructure highlighting some weaknesses about the status quo. But with proper education and information, much of this can be overcome, so long as the expectations of the leasing customer is properly managed.
Plus increasing obligations under Consumer Duty do place the onus of responsibility onto those businesses engaged in financial services, in terms of the finance product and the asset being utilised. With our EVC ™ we can truly demonstrate Fair Value to personal and business lease customers each and every time.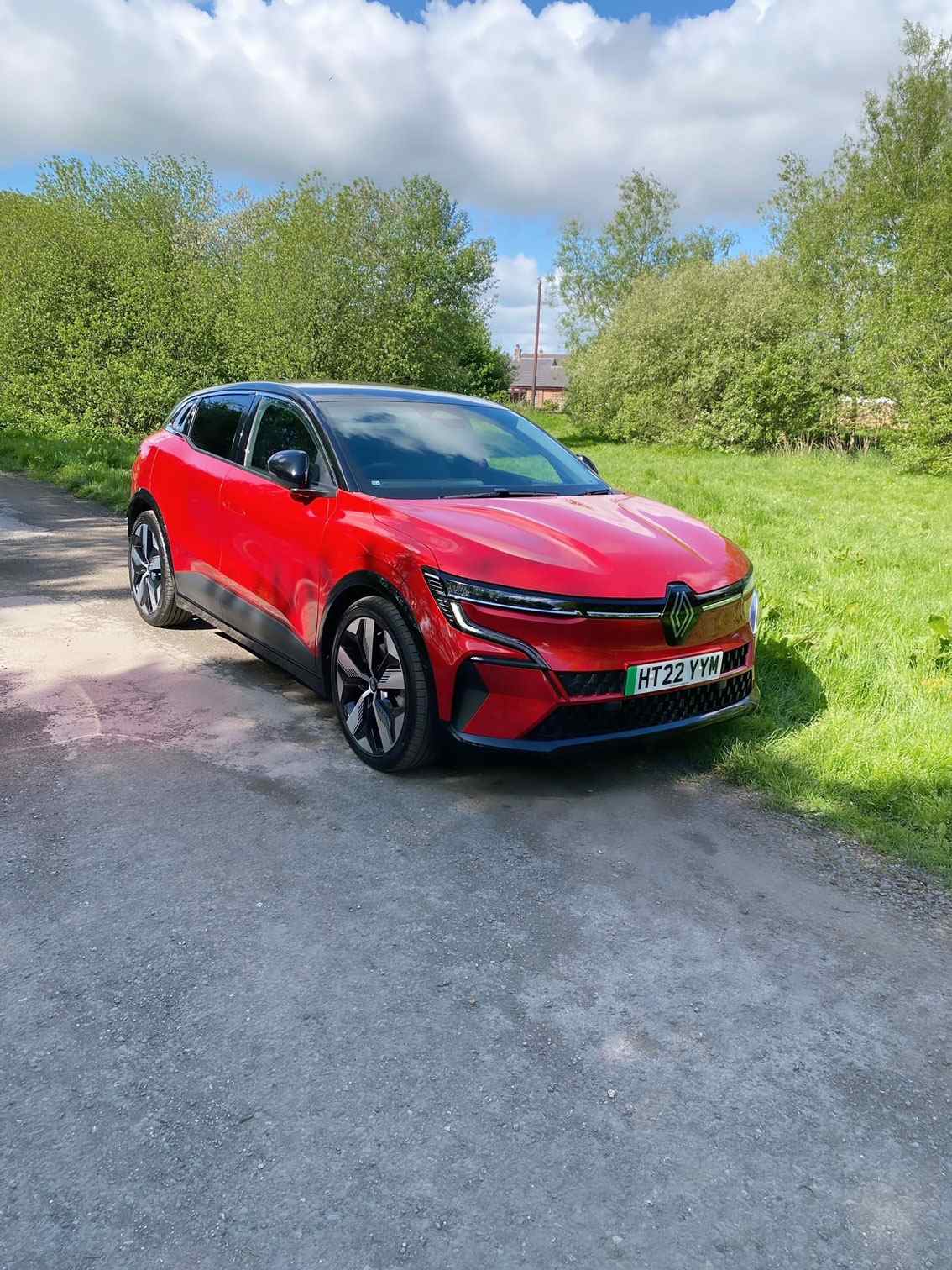 Whether or not the Megane scoops any awards during 2023 remains to be seen. So far the UK's media and automotive press have been mainly positive - CarWow at 8/10, Auto Express at 4/5, What Car? at 4/5 and Car Magazine at 4/5.
Described as a "balance between comfort and precision" plus "smooth, refined and powerful", the French BEV dynamo is receiving plenty of pros from the review platforms. Our partners over at GreenCarGuide have produced a comprehensive review for any potential buyers - with pros like performance, comfort and handling being noted. In terms of cons, the delay between starting the EV and engaging the gear plus the range in real world conditions is one to consider.
The EVC guide to the Renault Megane EV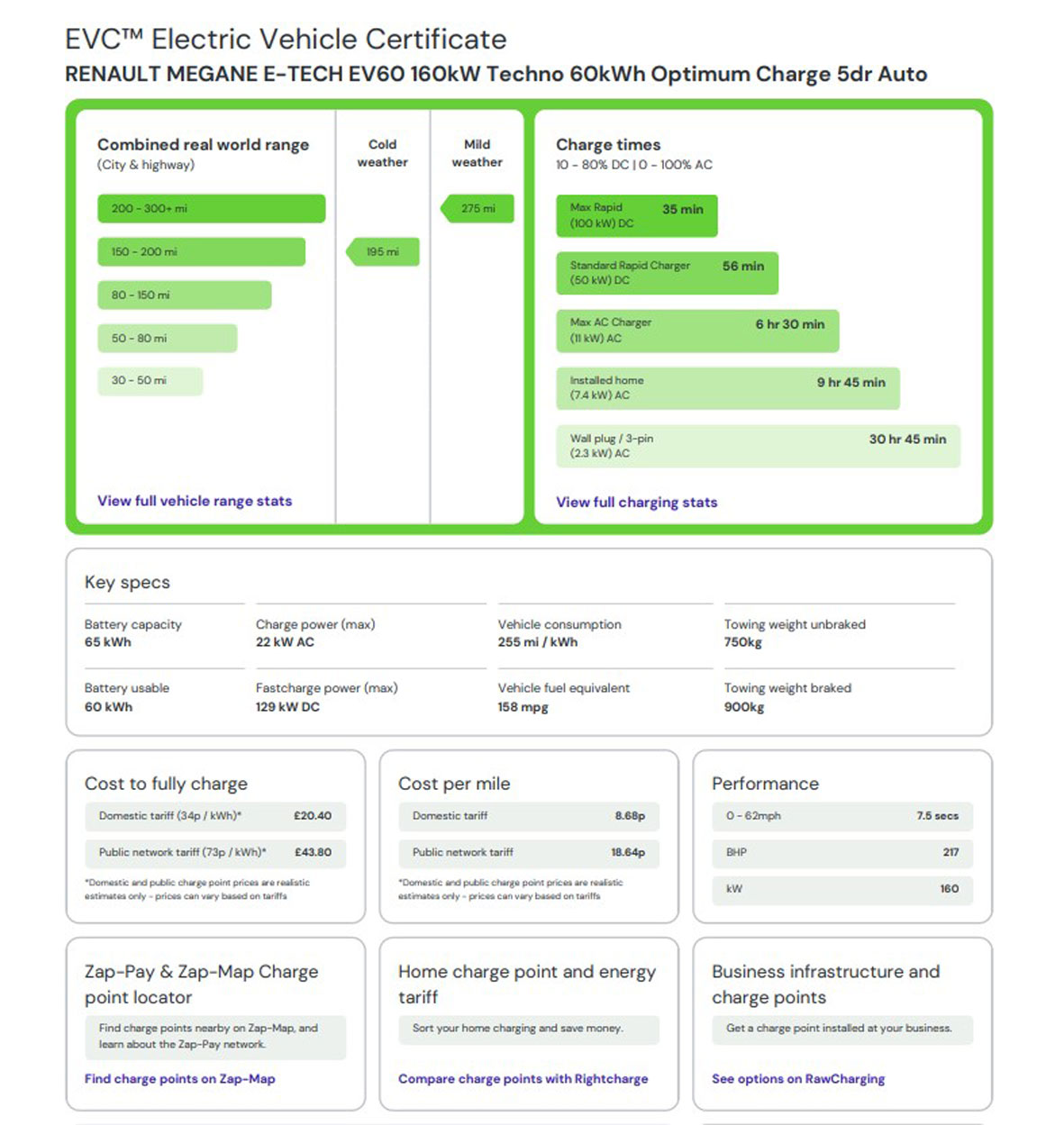 In terms of the car shown, the RENAULT MEGANE E-TECH HATCHBACK EV60 160kW Techno 60kWh Optimum Charge 5dr Auto, this is based on the following configuration:
• Special two-tone metallic - Flame red with diamond black roof
• Fabric made from recycled plastic materials and synthetic leather - Grey/Black
• 20"" Soren alloy wheels