What is the best electric car in the UK for 2021?
The hunt for the best electric car/EV is now a big mission for many personal and business customers; in the last 12-18 months, this has become a hotly contested battleground for many car manufacturers as they each strive to create the perfect electric solution. The acceptance of electrified solutions is firmly in place across the UK, as many customers now understand that there will be cultural changes towards 2030, when new petrol/diesel vehicles will be removed from their available choices.
The interesting part is how little frustration and resistance we have noticed from the UK; it was expected the push towards EV would create frustration, as we don't enjoy our freedom of choice being removed. It does seem, however, that common sense is prevailing and that the populous understand that we need to change our behaviours towards transport as part of being environmentally-conscious.
So which car is the best for 2021?
So far the bestselling electric car has been the Tesla Model 3, the Standard Plus and Long Range in particular. This vehicle, quite astonishingly, competes in deal volumes with the likes of the Ford Fiesta and Vauxhall Corsa. This is incredible when you think that a Tesla Model 3 ranges in prices of £40-60,000! Of course some of this can be attributed to the massive growth of EV's in the business contract hire and salary sacrifice markets, where the absence of BiK has led to many company car drivers making more practical financial decisions on their tax position.
As an EV emits zero grams of CO2 this means that for tax year 2021/22, only 1% BiK is attributed to this type of vehicle. In practical terms, you have drivers paying £10-20 per month for the benefit of using an electric company car. Compare this to the usual £300-500 they would be paying for realistic alternatives and you can see why it is an easy decision to make; saving £3,000-5,000 per year in tax certainly focuses the mind. Another growing area has been the salary sacrifice aspect to our motoring culture.
Many big organisations and the NHS have used the salary sacrifice as a means of adding some value to the employee proposition and this can be a cost-effective approach for the employer/employee in procuring a new car. However, the issue with SalSac is that it is still subject to company car tax. This means for some employees it is not affordable. The removal of company car tax almost certainly makes this a new and exciting way for employees in big organisations to afford new EVs.
What is the 'best EV' for 2021?
It is a question the e-car lease team face on an almost daily basis: "What electric car would you recommend for me?"
Like any car, this is very much a subjective and emotive decision; what we think is the best may not be your idea of best. The breadth and scope of EV's available is no longer exhaustive; there are literally hundreds of options we can discuss with customers.
Cheapest electric cars to lease
For customers looking into the cheapest EV's to lease, we would suggest small city cars like the Smart EQ and Skoda Citigo-e iV or the bigger Peugeot e-208 or Vauxhall Corsa-e.
Quick charging electric cars
For customers looking at the quickest electric cars to rapid charge we would suggest new options like the Kia EV6 Long Range, the Hyundai Ioniq 5 Long Range, the Tesla range or the upcoming Mercedes EQS.
Luxury electric lease cars
If a customer is looking for a luxury EV supercar and they really want to know the best EV, then we would suggest the upcoming Tesla Model S Plaid, Audi E-Tron GT RS, BMW iX or the Porsche Taycan Saloon/Cross Turismo.
Much of the "best EV" will actually boil down to the needs of the customer. For example, if you are covering 15-20,000 miles per annum on a high-mileage leasing contract then you will need an EV with a particularly long range and ability to rapid charge at a feasible rate.
In contrast, for 6-10,000 miles per annum, the low-mileage leasing contract customers are probably more flexible and can concentrate on aesthetics, style and performance. To be clear, some of the latest performance electric cars are far more capable than their combustion alternatives with 0-62 times of sub-4 seconds being common.
The idea that an EV is not fun is utter nonsense; without a doubt EV's drive much better than their petrol or diesel alternatives while offering a much cheaper form of fuel.
While the Porsche Taycan reviewed below is not the best electric car for the money (many being £100,000 and upwards), this is one of the ultimate electric cars to consider, particularly for those customers who would usually be concentrating on the Tesla Model S.
The Taycan has been one of our more popular options and it is no surprise that the Saloon is almost sold out on allocation until 2022! When you consider the price of the vehicle, you have to be impressed that a brand so commonly associated with petrol performance has managed to create a true electric masterpiece. Indeed, the Saloon has been so popular that Porsche launched a more practical version in the form of a Cross Turismo (hatchback) which has opened up the vehicle to those customers looking for a dog-friendly electric supercar!
Porsche have been clear in their mission to be seen as one of the true leaders in the electric car world and already the Taycan appears on the wish-list (and lottery-car list) for many customers in the UK. To bolster their product, 2022 will see the arrival of an SUV in the form of the Porsche Macan electric car! Without a doubt this will be one of the most popular vehicles to arrive in the UK since the Model 3 Tesla.
The best experience for our prospective EV customers
For any personal or business customers looking into electric cars and what is "best" we do ask that they refine and qualify their needs and requirements as part of this assessment. With electric cars, there are subtle points to note relating to range charging time, charging networks, seasonal performance, performance and efficiency, which must be taken into account as part of the analysis. Too often we hear the word "mis-sell" in the car industry, which is something many electric car suppliers and leasing brokers are distinctly aware of.
To this end, we are going to be working with the EVA England to ensure good practice is achieved by anyone involved in EVs. Education is key to making certain that each customer achieves the best possible electric car leasing experience.
Porsche Taycan Saloon 500kW Turbo 93kWh 4Dr Auto
In terms of the car shown, the Porsche Taycan Saloon 500kW Turbo 93kWh 4Dr Auto (Pure Electric Vehicle), this is based on the following configuration: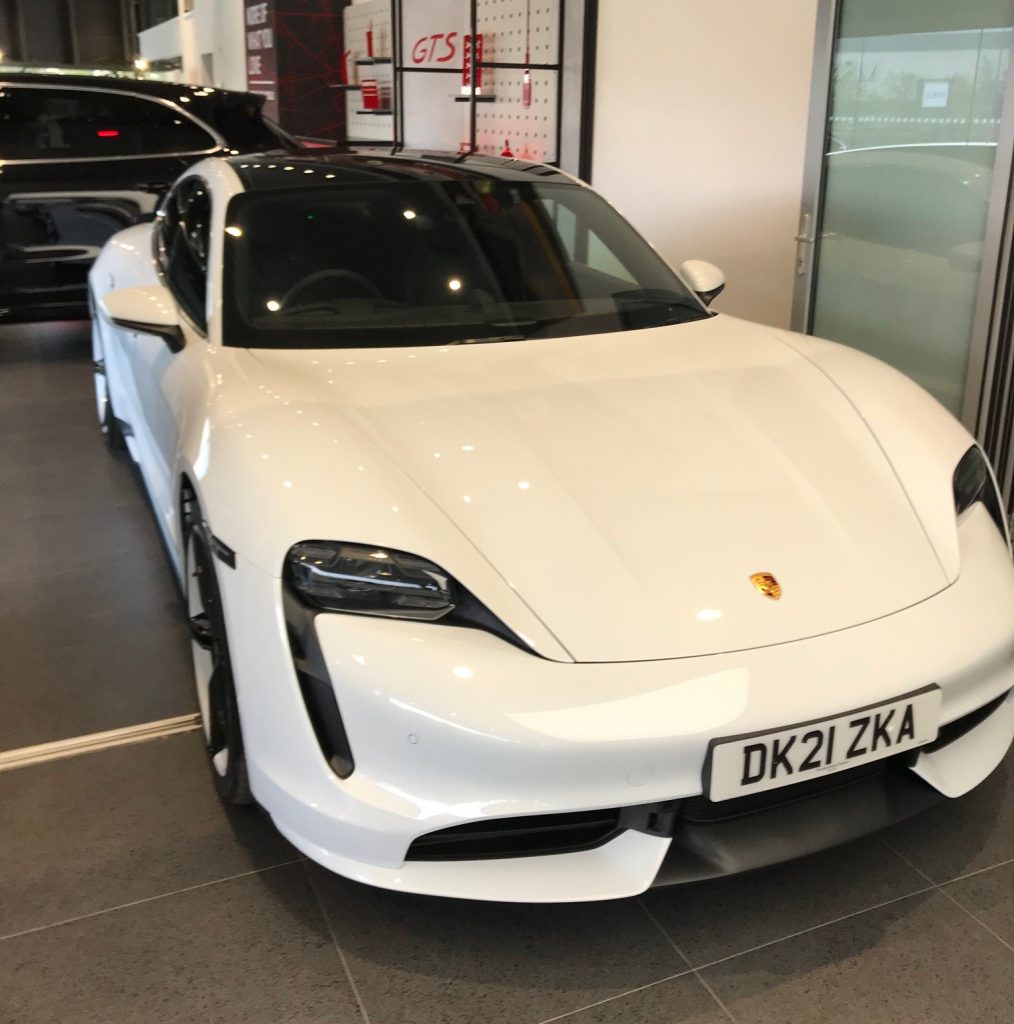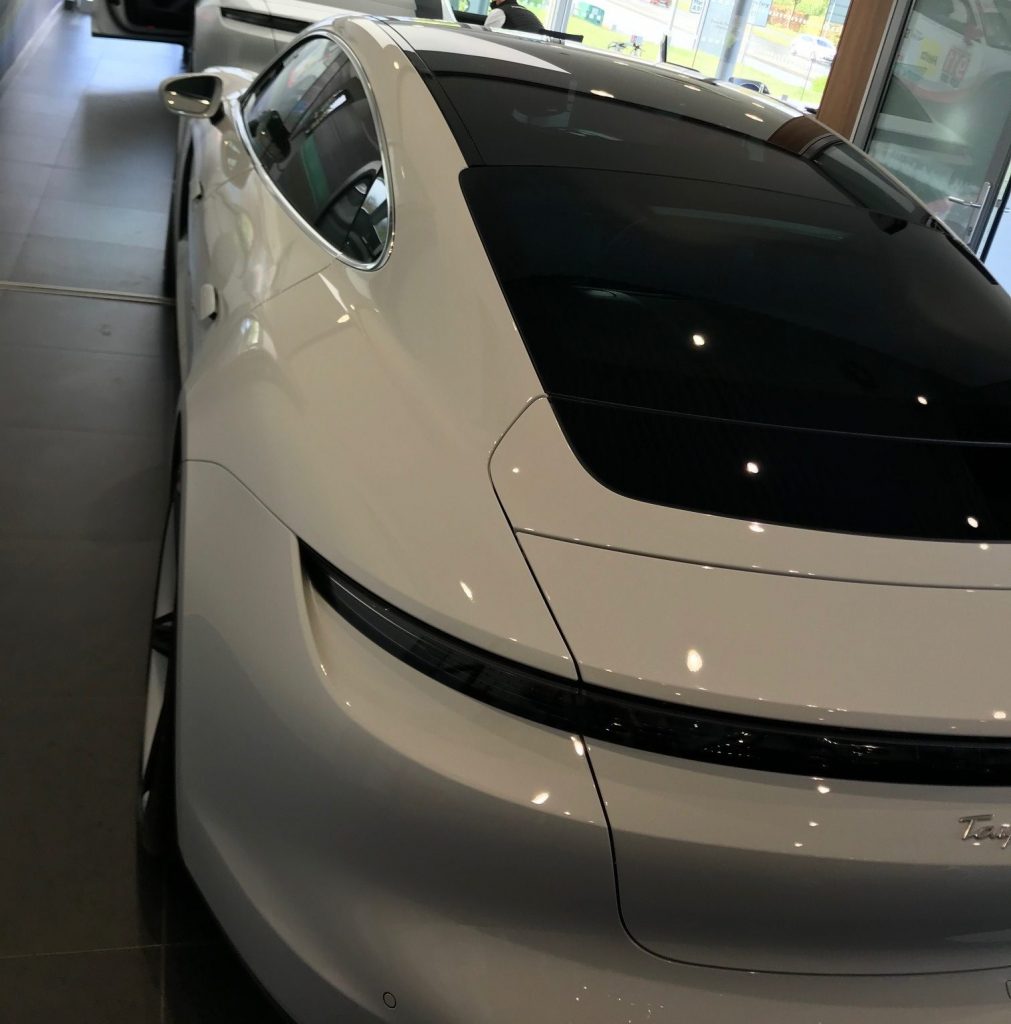 Porsche metallic - Carrara white
Smooth finish leather – Black
21" mission E design alloy wheels
Wheels painted in exterior colour
Porsche ceramic composite brake (PCCB) with brake calipers painted in high gloss black
Power steering plus
LED matrix main headlights in Black including Porsche dynamic light system plus (PDLS plus)
Panoramic roof with fixed glass panel
Privacy glass
Park assist including reversing camera
Comfort access system
Ambient lighting
Heated steering wheel in conjunction with leather interior and sports chrono pack
14-way electric comfort front seats with memory pack
Side skirts in sport design
Electrically folding exterior mirrors
Model designation on doors in black
Porsche electric sport sound
Sport chrono package – Taycan
Rear Light Strip with Porsche logo in Black
As standard, the car includes 60/40 split flossing seats, heat pump, pre-climatisation, LED interior lights, Turbo logo on the headrests, keyless drive, immobiliser, vehicle tracking system. LED daytime running lights, 16.8" curved touchscreen display, lane keeping assist.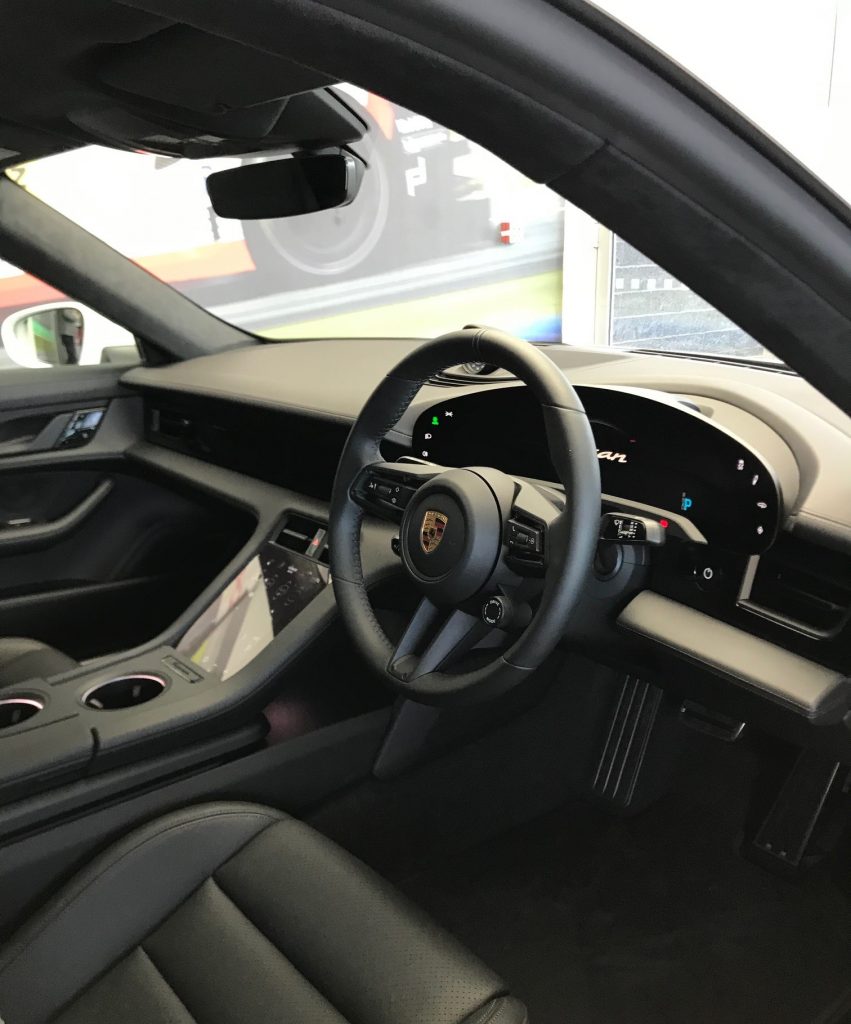 Porsche Communication Management, Apple carplay, power boot lid, wireless phone charging, electrically adjustable and heated door mirrors, rain sensing wipers, collision and brake assist, 11kW AC onboard charger, 50kW DC charger.
Porsche Traction Management, charging cable for a 3-pin plug and type-2 charge point and 20" turbo aero alloys.
In terms of additional options, go on the Porsche website and choose yourself. As you can imagine, there are a plethora of personalisation and options you can add to the car. Key option to include on the Taycan - the 22kW AC onboard charge and 150kW DC onboard charger are a must! Quite handily you can charge AC on both the left and right-hand side of the car.

On the technical side, company car and business users can note the P11d at £115,860.00 and CO2 at 0g/km for a standard car. What is the range on a Porsche Taycan Turbo? In winter, expect the car to deliver between 200-240 miles and in spring/summer expect around 240-300.
In the UK, you can expect a realistic range of about 250 miles on a full charge. SO what is the charging time on a Taycan Turbo? A standard car will take around 13 hours to full-charge on a domestic 7kW charge point and about 9 hours on an 11kW option (rapid AC).
The car will rapid charge on a 50kW DC which means 10-80% in 70-80 minutes (a 150kW upgrade will allow this to be more like 30 minutes). And quite impressively the car will offer 0-62 in around 3.2 seconds, delivering 500kW (or 671hp!).